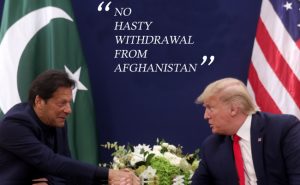 N. P. Upadhyaya; Kathmandu: General Kenneth McKenzie Jr-the United States Central Command (US CENTCOM) had stated that "it had been clear for Washington for many years that Islamabad did nothing practically to help the peace process in Afghanistan", according to the Afghan Voice Agency dated December 6, 20218.
General McKenzie also warned that "foreign forces pull out of Afghanistan was a "dangerous" move".
These two expressions made by the US General McKenzie deserve some comments in that things in and around Afghanistan have qualitatively changed and that some sincere political players are in the regional political scene who certainly wish peace to prevail in Afghanistan as peace in the country meant peace in the entire region including the trouble maker of this vast expanse-that India is.
Keeping the fact straight, what must be recorded here is that the US General landed in Pakistan along with the special envoy on Afghanistan Zalmay Khalilzad around the time when the Afghani Talibans had just begun their talks in Doha, Qatar second week September.
And the next visit to Pakistan was made by Zalmay Khalilzad and Commander NATO Resolute Support Mission General Austin Scott Miller on October 8, 2020, US embassy in Islamabad reported.
So within two years the US Generals have visited Islamabad twice whereas the US Special envoy Zalmay Khalilzad several times in the past two years.
The regular visits being made to Islamabad by the US Generals speak that Pakistan as other countries of the region is very much interested in institutionalizing peace in and around Afghanistan and in doing so, Pakistan is serving its prime national interests because peace in Afghanistan is directly related with Pakistan as both the South Asian neighbors are next door neighbors.
If simplified, any India sponsored upheaval in war torn Afghanistan is bound to negatively impact Pakistan and thus Pakistan has copious reasons to assist the US and other peace loving forces to bring in peace in Afghanistan for all time to come.
However, it should be done keeping an eye on the regional destructive elements or say the known destructive "spoilers".
With the advent of Imran Khan as Prime Minister of Pakistan in 2018, this country in a short span of time restored its almost broken ties with the US.
Pakistan during the Cold War era used to be one of the strongest ally of the US in Asian continent and had opposed the Soviet invasion of Afghanistan for a long period and the war resulted in the exodus of the Afghani refugees in neighboring Pakistan.
This reality changed with the abrupt dissolution of the former USSR but with the entrance of the US forces some 19 years ago, Afghanistan once again became the hotbed in South Asia, RAW penetration excluded.
PM Khan's exclusive talks with the US President Donald Trump in 2019 gave an opportunity to both the leaders to reciprocate the feeling of each other.
Previously an annoyed US, took measures to come closer to its former cold war ally.
On the contrary, with the US Backing on its side, the Hindutva gang leader in India PM Modi began to tyrannize the minorities Muslims and the Dalits with special focus on the Muslims of the India Occupied Kashmir.
Then followed the ghastly Delhi riots in February early this year which coincided with US President's visit to India.
Trump though saw the riots but refrained from making any comments which was due.
To recall, the Kashmiris have been languishing inside the greatest and the largest open air Jail in the World since August 5, 2019.
The Indian oppression and coercion in Kashmir is so high and intense that National Conference leader Dr. Farooq Abdullah was forced to say that "it is better to be governed by the Chinese rather than the Indian administration".
The pro-Delhi establishment Kashmiri leader made these remarks while being interviewed by Karan Thapar of the WIRE.
Here is a fresh development on Kashmir: Kashmir's most senior leaders have come together to announce an alliance against the Central Indian Government under Hindutva gang chief PM Modi, denouncing his decisions more than a year ago to strip the region of its special status.
The detained People Democratic Party (PDP) leader Mrs. Mehbooba Mufti has joined the coalition after her release from the largest prison in the world-Kashmir.    
South Asian diplomatic sources claim that the region is already believed to be the most highly militarized in the world with one brutal Indian soldier to one Kashmiri.
Pellet guns rule supreme in Kashmir-once a Shangri-La.
Mr. Abdullah, a three-time chief minister of the erstwhile state and current MP and the one who prefers Chinese rule over India's,  told reporters that the parties would form a grouping known as the "People's Alliance".
This means that Kashmir is going to shake the Modi government in Delhi.
Back to the story.
So with the sudden dash of Zalmay Khalilzad once again in Islamabad within a month or so along this time with the US General Commander NATO Resolute Support Mission General Austin Scott Miller does tell that something very grave has cropped (could be a snag in the Doha talks) up in the Afghan-Taliban talks in Doha which demanded the Pakistani assistance and hence the fresh meet of the US authorities and the Pakistani political and security authorities in order to chart a sure shot path for the institutionalization of peace in Afghanistan.
On both the occasions, the US peace finding mission in Afghanistan has met with the Pakistan Army Chief General Bajwa perhaps to talk on the preservation of peace in Afghanistan and also to save the country from the enemy or say the spoilers in the South Asian region. Guess? The regional scoundrel.
The new US Ambassador to Pakistan William E. Todd recently said that "Pakistan now has an even more important role in ending the Afghan war than it did in arranging a peace deal with the Taliban".
Ambassador Todd, who was nominated by President Donald Trump earlier this year, told his confirmation that Pakistan remained a difficult but "essential US partner in South Asia", and Washington was seeking to reset its ties with Islamabad, writes the Dawn/Diplomat dated September 24, 2020.
For Afghanistan peace, definitely Pakistan is the essential regional partner of the US set up.
Acknowledging frankly that the two allies have had differences, Ambassador Todd added: "Pakistan is an essential regional partner, and this is an opportune moment in our relationship to work together on shared goals."
The new US envoy said that cooperation between the two countries was also essential for bringing peace and stability to Afghanistan.
Recently, several senior US officials acknowledged that Pakistan played a key role in arranging a peace deal between the US and the Taliban earlier this year. Washington hopes that this deal will ultimately end the 19-year old war in Afghanistan and will allow it to withdraw its troops from the war-ravaged country, the Dawn reports.
The Doha talks of the February this year too were an effort of the US's essential regional partner-Pakistan.
All these put together, what come to the picture is that General McKenzie's bold assertion made in 2018 that Pakistan has not been cooperating the US on peace building efforts in Afghanistan stands null and void.
Ambassador William E. Todd's blunt expression spoken in favor of Pakistan in the recent days is perhaps sufficient to cap the mis-conceptions of General McKenzie's off the cuff remarks made on Pakistan as reported by Afghan Voice Agency.
Yes! General McKenzie is correct in his assessment in that the US relations with Pakistan remained almost cipher until PM Imran Khan took the executive authority in his hands in Pakistan.
In his article in the Washington Post dated September 26, 2020 PM Khan said that "his country will continue to support the Afghan people in their quest for a unified, independent and sovereign Afghanistan that is at peace with itself and its neighbors. Pakistan believes that peace negotiations should not be conducted under coercion and urges all parties to reduce violence.
Like the United States, continued PM Khan saying that "Pakistan does not want to see Afghanistan become a sanctuary for international terrorism ever again.
"Since 9/11, more than 80,000 Pakistani security personnel and civilians have laid down their lives in perhaps the largest and most successful fight against terrorism. But Pakistan continues to be the target of attacks launched by externally enabled terrorist groups based in Afghanistan", Khan said.
Khan implies perhaps India as the external force.
He however, says that "all those who have invested in the Afghan peace process should resist the temptation for setting unrealistic timelines.
What was most important of it all in his article that he has warned all those who wanted an early and hasty withdrawal for some unexplained reasons? Is he hinting at Donald Trump?
In fact, Khan had said that "A hasty international withdrawal from Afghanistan would be unwise. We should also guard against regional spoilers who are not interested in peace and see instability in Afghanistan as advantageous for their own geopolitical ends".
He must have said so sensing the possibility that with the early and a hasty extraction of the NATO forces from Afghanistan may benefit those "regional enemies" who are hell bent on destroying peace in Afghanistan.
Clearly, the destabilizer is a common but bullying friend.
In fact an unstable Afghanistan politically benefits India-the regional bully and the father of RAW spy agency.
This is what Ambassador Abdul Basit also hints through his fresh article published, October 07, 2020, in the Arab news titled "Pakistan's Ambivalence on Afghanistan".
Says Bashit, "the US withdrawal From Afghanistan would put in danger al the gains that have been made since the ouster of the Taliban in 2001. Delhi's interests are being well served with an unstable and chaotic Afghanistan".
Basit knows India better as he has spent good time in India as Pakistan representative.
Basit reveals that President Ashraf Ghani is likely to make a short trip to Islamabad.
Abdullah Abdullah has already visited Pakistan last week.
Delhi was his next stop.
Diplomatic sources opine that Abdullah's talks in Islamabad and Delhi were closely monitored by experts and the international media in Afghani capital.
Abdullah appealed the Pakistan Army Chief to help support him in arresting the worsening security situation in Afghanistan.
As of withdrawal, while PM Khan will go for stepwise removal of the forces from Afghanistan, the US President through a Tweeter message of October 7 prefers on the contrary a quick extraction from Afghanistan which reflects his approaching election mood.
President Trump said "that all US troops will return from Afghanistan by Christmas".
Isn't it too early?
President Trump wants to cash from the early withdrawal of the forces and also from Israel's deep penetration into the Arab countries through the initiation of its diplomatic ties. As of now, Israel has made intimate ties with some Oli rich countries whose benefit is expected to go to Trump's pocket at time of the upcoming US elections.
By this time, Israel maintains full diplomatic ties with two of its Arab neighbors, Egypt and Jordan upon signing peace treaties in 1979 and 1994 respectively.
This year, Israel has signed agreements establishing diplomatic ties with two other Arab countries, Bahrein and the UAE.
Writes Tobbi Youssef for the ORF, India, October 8, 2020, that "the gradual alignment of American foreign policy objectives with Sunni powerhouses in the region led to a historic deal between the UAE and Bahrein with Israel".
International relations experts in Nepal opine that such a hasty removal of the forces may threaten the prospects for success in the first serious Afghan to Afghan peace negotiations in decades and decades now in progress in Doha, Qatar.
To boot, the Atlantic Council in its fresh note titled 'Don't Abandon Peace for Afghanistan' which is in the form of a joint statement dated October 10, 2020, made by some world class diplomatic brains like Ambassador James Cunningham, Ambassador John Negroponte, Ambassador Ronald Neuman, Ambassador Hugo Liorens, Ambassador Richard Olson and Ambassador Earl Anthony Wayne" who jointly view that "If confirmed, a premature US withdrawal would tip the balance toward the Taliban, who are still waging war across Afghanistan. It would undermine our Afghan partners and have a terrible impact on Afghan women".
The Ambassadors mentioned above were all US high level functionaries either working in Afghanistan or for that matter in Pakistan in the past.
All these high level US officials understand the security situation better and have the knowledge as to what may happen if and when an "early and hasty" removal of US forces takes place as per the October 7 tweet of President Trump.
The diplomatic veterans further reiterate that "US national security would be undermined leaving the United States with less leverage to assure that the Taliban will keep commitments-especially their promise to prevent Al-Qaeda and other international terrorists from using Afghanistan to attack the United States".
Perhaps visualizing all these in advance, PM Khan may have suggested to avoid an early and a hasty drawing of the forces.
The consortium of the diplomats also focus on what PM Khan wrote in Washington post on September 26, 2020.
The diplomatic luminaries applauded the serious note made by Khan in his write up and reiterate that "Important in this context are the words of Pakistan's prime minister, whose country has long sheltered the Taliban. In a September 26 Washington Post op-ed he said: "All those who have invested in the Afghan peace process should resist the temptation for setting unrealistic timelines. A hasty international withdrawal from Afghanistan would be unwise."
Finally these diplomatic veterans also appeal the US administration stating that "we urge that US troops not be withdrawn by Christmas or until conditions on the ground assure that US security objectives in Afghanistan are guaranteed through a political settlement and a sustainable peace-a peace that honors the sacrifice of America's brave men and women".
To sum up, experts on South Asian regional affairs (with special focus on Afghanistan) in Nepal opine that, "Taliban and Islamabad' "forced" relationship are linked since decades ago and that it has a connection that could be sketched back early this century where they were compelled to bond up definitely to defeat the then Soviet Union in Afghanistan which perhaps Islamabad will not hesitate to comprehend.
It is also highly believed in Nepal's academic circle that the path of peace in Afghanistan has to pass through Pakistan.
But what of the Russian Federation role for peace building in Afghanistan? That's all.