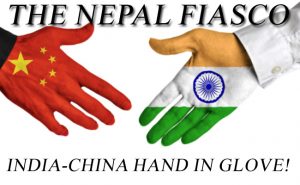 N. P. Upadhyaya, Kathmandu: Nepal Prime Minister K. P. Sharma is in deep trouble.
The troubles are partial of his own making and the rest from the "external agency and its paid domestic agents presumably.
He may be kicked out soon from his current coveted Chair or the nation shall be thrown into yet another crisis caused by domestic and "known and declared inimical forces" bordering Nepal.
Both the options run in parallel but very active these days and weeks upon the arrival of two "foreigners with ill-intent" to Nepal.
Thus, the frontal attack is both from within and without.
However, the internal anxiety and the pressure exerted on PM Oli is nothing new for him as such 'awkward and manufactured-sponsored moments" have already been surmounted by the "clever and unyielding highly uneducated qualified Jhapali" as he is taken in his home district in the Eastern Nepal-that unfortunately is very close to the Indian regime controlled now by the RAW spy agency and the Hindu goons.
Says Surya Nepal, a Nepali national and a political analyst, confidently that in the country's contemporary political history, PM K. P. Oli is an ace political veteran whose match is not inside the country.
Does this mean that he has foes outside the border of the country? Yes. Some spy agencies across the border have reasons to smile looking at the uneasiness cause to PM Oli by his known colleagues.
However, analyst Nepal says that in the recent days and months, PM Oli is being teased, provoked and harassed by his fellow party men who belong to the former UML backed by the India-manufactured and indoctrinated Nepal-Maoists who have had taken grand shelter in India under the orders and instructions of the Indian establishment through Ambassador Shyam Saran posted then in Kathmandu.
Saran was assisted by his posted agents in Nepal then.
Prachanda and his entire "luxurious" team were the State guest of the Indian regime beginning with Atal Bihari Vajpayee to Dr. M. M Singh-the highly qualified peon of Mrs. Sonia Gandhi.
Late Vajpayee too was not that innocent as is being taken by his admirers in Nepal.
Instead he was a t0ugh negotiator.
Nepal for him was a sacred land and concurrently a protectorate.
Mr. Saran did it under the commanding orders from Smt. Sonia Gandhi who basically hails from Italy and is married to rouge Indira Gandhi's son, the play boy pilot Rajiv Gandhi who himself was a tormentor for Nepal and Sri Lanka.
There was a time when Indians nationals were mercilessly ruled by the Italian lady -Sonia Gandhi with iron fists.
Mr. Saran is surely a mentally deranged and a retarded person who believes in destruction.
The Indian ogre Shyam Saran who became later foreign secretary of India-the former British Colony, used and over used the Delhi residing Maoists to the extent that the Nepali insurgents in collusion with the India's RAW and the South Block and its allied partners in Nepal uprooted the two and a half century old Nepal's institution of the Monarchy in the year 2005/6 through an India's manufactured and sponsored (funded) fake "revolution" which was back home actively supported by the India bend political parties.
The bend parties went to Delhi as summoned and then signed the India drafted 12 point agreement which brought miseries to Nepal since the very day of the signing of the said "Destroy Nepal agreement".
Unfortunately, the mysterious Chinese regime also assisted those in Nepal who in collaboration with the Indian machinery damaged Nepal to a greater extent.
China's can't escape the responsibility.
China's cheat and deceit has become a stigma for the nationalists of Nepal.
Reportedly, the Indian predator Shyam Saran flew to Beijing to woo the Chinese regime and finally brought China in the same page with India to dismantle the Nepali monarchy.
This was the Chinese folly which has haunting China since 2005/6.
In a way, China lost a reliable partner in Nepal.
And Nepal got to know China's inner intent for Nepal.
This way, it could easily be concluded that China is not a reliable and trustworthy partner of Nepal.
This is the fact or else why China would have signed a treaty/agreement with China through Lipulek that is a Nepali territory in the far west?
China is equally a cheat and deceit like India. Guaranteed.
And the same China through the Global Times has lamented in the recent days that "Bimlendra Nidhi and Bishwa Prakash Sharma" of the Nepali Congress were tentatively active in maligning China on Nepal's land grab issue.
The Global Times bluntly claims that Nepali Congress is a pro-India party.
The Global Times, November 11, 2020, article pointedly blamed the Nepali Congress for spreading the rumors that China has encroached on Nepali territory.
The article written by Hu Wuwei calls Nepali Congress a "pro India force and the main "institution behind fabricated reports provoking Nepal against China".
Political analyst Mahabir Poudel writes in a Kathmandu daily that " it's a mainstream story in the Indian media and beyond, including in the Epoch Times of the US and the Telegraph of the UK, all citing the reports the government has denied it ever published, and the same dubious resources and the same bunch of leaders from Nepali Congress".
"Some leaders are accusing China of land grab without verified and substantiated proof, while Nepali Congress leadership is pretending ignorance. What is it thinking? Asks analysts Poudel.
By the way, the Nepali Congress has taken note of the Chinese remarks through Global Times and has expressed "reservations" on China's comments made on the NC.
Yet another brilliant write up on political affairs Arun Budathoki says, November 13 that, "Nepali Congress will try to be anti-China as it is not in power. Once it comes to power then it will change its mind. Tough times for the once vibrant party, which is reduced to mediocrity and is busy in nursing a complicated history with the irritant Southerners".
Analysts in this paper slightly differ with Mr. Budathoki's comments that the Nepali Congress has never remained friendly with China in truest sense of the term.
However, the contention that its ties are more or less tied up with the "irritant Southerners" is hundred percent correct.
Yet late BP Koirala during his Premiership proved himself a tough negotiator. It is a fact.
If it is so then why China in the year 2005/6 assisted India through Nepali Congress leader Girija Prasad Koirala and uprooted the institution of the Royalty in Nepal? Or China had no knowledge that late Koirala was one of the great henchman of the Indian establishment? Is Chinese diplomacy in Kathmandu below the demanded standard?
So China's shedding of crocodile tears and attacking Nepali Congress has no meaning, honestly speaking.
China in more ways than one has betrayed Nepali sentiments and the long standing conviction that China was a pillar for the preservation of Nepal's sovereignty.
China has lost its credential of an all-weather friend of Nepal.
Due to the ill intention of India plus China's siding with the expansionist regime in the South, King Gyanendra-the King of Nepal as of now, got the point and quit the Nepali throne announcing that "if my ouster benefits the Nepali population then I have to quit the throne in the larger interest of the population".
So to a greater extent, what can be said is that China too is responsible for the unceremonious ouster and the dismantling of the Nepali Royal institution.
China duped a friend in Nepal which lobbied for China for the Observer status in the regional body-the SAARC.
King Gyanendra fought with Dr. MM Singh in Dhaka lobbying for China for SAARC.
China receiving a big jolt in Nepal is not that uncomfortable for Nepali nationalists who for several political reasons have had concluded that Nepal's northern neighbor China would through its quiet diplomacy be of substantial support to Nepal in lessening Indian dependency and also come to the rescue of Nepal as and when its sovereignty and territorial integrity is being thrashed by the South Asian bully and the scoundrel-India.
By the way, until China clarifies and simultaneously corrects its Lipulek blunder of the year 2015, Nepali nationals have plenty reasons to take China also at par with India-the former slave of the British East India Company.
Will China correct its Lipulek blunder? No. Not.
If not then why should Nepal bother for China?
Why not to encourage the Tibetan refugees settled in Nepal and fan the issue of Hong Kong and Taiwan?
Nepal can subtly create problems for China from Kathmandu's fertile soil.
In addition, China should not conclude that all in the Nepali Congress were rotten eggs. Yes. All were definitely not.
For example, Dr. Shekhar Koirala being from the late BP Koirala's near and dear relative (Dr Koirala is nephew of late BP Koirala) differs with what his fellow party men like B. Nidhi and Sharma talk of China.
Dr. Koirala from the very beginning of his political entrance in the Nepali Congress held the view, and that too very strongly that China's friendly role in Nepal's development can't be ignored.
This he has told while talking to this scribe many a times in the past.
Koirala even says that Communist party of China and the Nepali Congress should work in tandem to develop Nepal-China ties.
Will Beijing prefer to develop intellectual-politico ties with Dr. Koirala who commands respect and honor within the party he serves.
Back to the main story, the men disturbing the "peace of mind" these days were the same faces who in the past served the Indian establishment in order to get elevated to the power corridors in Nepal.
Here again, PM Oli is feeling betrayed by his own party men plus the India manufactured Maoists and obviously China trusted political party of the 2005/6 era have converged at a point to unseat prime minister KP Sharma Oli from the current Chair.
Needless to say, PM Oli is experiencing this trouble right from the external force/agency called the RAW and it's posted and paid agents in Nepal as rightly pointed out by the Global Times in the recent days and weeks.
India's RAW menace is also in Islamabad, Dhaka, Male, Colombo and approaches up to Kabul. Islamabad is the worst hit by RAW of late. 
Thus China should not have any surprise and repent in facing music in Nepal by its own wrong deeds of the past.
RAW's penetration is all pervasive in Nepal to the extent that RAW appears to have posted agents right inside the team of the sitting Prime Minister KP Sharma Oli.
In a way, PM Oli is surrounded by RAW men expectedly.
So it is time for Nepal PM Oli to reshuffle his team of near and dear advisors.
Any delay in recognizing the "agents of external force or agency" will do much harm to PM Oli.  Timely kicking out of the suspected agents would be good for the political health of the Prime Minister in his office.
Failing to do so would mean that he is lessening his time in the prestigious office of the Prime Minister.
And an alarming bell to China as well.
Oli is not pro-China but instead he is very close to India, high placed sources confer.
Prime Minister Oli when was a UML Party functionary had an excessive India bend political personality.
Oli's disproportionate and suspicious ties with the Indian establishment began right with the cheat and deceit that he played on mother Nepal when he as the chief Campaigner of the "Gift Mahakali River to India" in the mid-nineties had bagged success to handover the mighty Mahakali River to India through the Parliamentary ratification in Nepal.
Oli was the prime person to have seduced other UML party men to lobby for India and thus he and his party men sold the Nepali river to India at a dirt cheap price.
So it would be an eye opener to China to understand the tricks and the thuggery of Prime Minister Oli and do business with him considering Oli's subservience to the Indian establishment.
China should forget that Oli is a China hand. The reverse is true.
He is a China hand by a fluke.
Albeit, he is bit annoyed with India on the land grab issue but yet China should not forget that PM Oli secretly invited the India's RAW (spy agency) Chief Samanta Kumar Goyal who landed in Nepal on October 21/2020 and entered straight to PM"s official residence. Goyal held secret talks with Oli for five hours, say sources. 
This followed the landing of the Indian Army Chief M.M. Naravne who was the one Indian nationals who claimed on May 15, 2020 that Nepal was teasing India at the behest of China.
Naravne was the most unwanted guest for Nepal yet PM Oli garlanded him as if he were his close relative.
In the interregnum period, albeit PM Oli became a strong nationalist at time of the Great Quake of 2015 and under compulsion he have had to seek supports from China.
That's it. Nothing more than that.
In sum, China has no reliable partner in Nepal. China should have no more illusion about Nepali sentiments now.
The external pressure to PM Oli is from India and as is being highly presumed in Nepal.
Pressure on PM Oli has increased ten time after the arrival of RAW Chief Samanta Kumar Goyal. Appears that he has "encouraged" Prachanda. who enjoyed RAW's hospitality in Delhi, if he recalls. 
This should explain the rest of the increasing attack on PM Oli.
A mild but very useful tip to PM Oli. If the Indian goons, the RAW, can destabilize Pakistan, as summarized by the Pakistan Prime Minister Imran Khan and well detailed by Foreign Minister Qureshi last Saturday to a galaxy of Pakistani media men in Islamabad.
PM Khan had stated that, in his own words, (Sic), "we have provided irrefutable evidence of India sponsored terrorism inside Pakistan. Detail of financial abd material support and Indian State's direct involvement in terrorism have been (duly) given to the world which, in the face of this evidence, can't remain indifferent or silent".
The same story in detail was narrated by FM Qureshi at a media conference jointly address by FM Qureshi and Spokesman of the military, general Babar Iftikhar.
But will Oli yield? Not at all. Instead PM Oli will prefer a midterm poll. President Bhandari fortunately or unfortunately abides by Oli's recommendations without asking Oli the repercussions of his whimsical recommendations on Nepal's political health.
While PM Oli and Prachanda are fighting for Chair, the US and India have just signed a Military pact that will allow India to more handcuff Nepal.
Nepal's inching closer to China is what irks now both India and the USA.
RAW is soon sending FS Shringla who will "reset" Oli to Indian tune.
An India-tuned Oli be sacked by Amit Sah, the Indian Home Minister, when he lands in Nepal close to Shringala's visit.
In sum, President elect Biden's administration may not be that tough towards Nepal hopefully.
But by that time, will China correct its past follies of aligning with the Indian regime to unseat King Gyanendra and understand the sentiments of Nepali population?