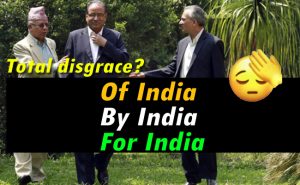 N. P. Upadhyaya, Kathmandu: Nothing remains to be told. But politics remains tensed.
The ultimate truth has come out from the horse's mouth.
He has admitted substantiating that he have had "enough and intimate and illicit" contacts/ties with the South Asian regional scoundrel-that India is and shall be forever.
His words and expressions that "we the people" listened to his February 26, 2021 interview with a Kathmandu TV journalist does tell that "facts can't be hid and that your inner intent come out finally even if it may consume some time.
This is just a "million dollar exposure" which was long overdue.
His verbal acceptance in an unhesitating/ manner and that too without feeling "ashamed" does tell that Nepal too have had several versions of Sikkim's Lendhup Dorjes in a variety of forms, shapes and colors in the country eating the political, economic and societal stamina like a moth of the "ever sovereign" country-Nepal.
Sikkim, Lendhup Dorje died an 'unsung death' for the Sikkimese population later knew the way this traitor Lendhup had secretly submitted his independent and sovereign nation to the mercy of the most hated women of South Asia-Mrs. Indira Gandhi-the Prime Minister of Indian Union-the former British slave.
Let's come to the point.
What this India elevated, trained, indoctrinated and nursed communist veteran (but is he?) said while talking to a Nepali Television anchor February 26, 2021, runs like this.
Writes Bijaya Aryal, a senior media veteran who served the Himalayan Times English daily for quite some time in the recent past says in his Face Book account that, (sic), "Prachanda, in his Feb 26 TV interview in " Janta Janna Chahanchan" program, has said that Nepal has a 'special relationship with India' and also that there can't be a more "comfortable" Nepalese government for India than a coalition of his own party (the NCP faction), the Nepali Congress and the JSP-Janata Samajwadi Party.
This simply translates to, according to media veteran Mr. Aryal that "There can't be a more Indo-centric government in Nepal than the above mentioned coalition".
Mr. Aryal's blunt blast further adds, "During the Panchayat period, the then Nepali Prime Minister Tulsi Giri had in his India visit spoken of "special Nepal-India relationship". But soon after his return, he lost his post and the Nepali media linked this (resignation) to his "special relationship" statement.
"The Government of Nepal is supposed to pursue its national interests. But how can Nepal and the interests of the Nepalese be safe in the hands of politicians who go out of the way to please India just to stay powerful in Nepal's politics, despite all the inimical behavior India has shown towards Nepal since the British left", Aryal continues.
Journalist Aryal speaks the inner voice of the common population presumably.
Well! Well! Well.
This media man from the core of his heart appears to have preferred to register his repugnance for the larger interest of his social media friends against the express-statement made by this India trained namesake Communist veteran who in the process of talking to the TV anchor, Rishi Dhamala, not only exposed himself but also uncovered the regime across the border in the South which has been creating political chaos, turmoil, instability and mayhem in the neighboring countries more so in Nepal and Pakistan, Bangladesh, and Sri Lanka. These countries have become India's targeted victims.
Prachanda while "vomiting" his heartfelt warm regards, friendly intent, and submissive attitude towards such a country in South Asia forgot that he was all praise for a country that in essence is a proven curse for the entire region.
The South Asian nations lament now as to why the British India Company left this "slave country" for good in 1947. Better the Company should return.
The excitement and the eagerness with which Delhi trained and Professor S. D. Muni mentored Comrade Prachanda was vocal in favor of the expansionist and coercive India was perhaps the saddest moment for the people of Nepal having a sense of honor and respect for mother Nepal.
Many a "sovereign heads" went down with a sense of "high regrets" concluding that such a close to a traitor like and India trained leader who seeks a government in sovereign Nepal which is more "comfortable" to the former country administered by the Mughals and more recently by the English people is a Nepali national by birth.
Claims a vocal media man from the Nepali Terai Birendra KVM that "we the people" have been forced to accept such a bogus political man to be our leader who is bereft of a sense of regard for one's own motherland.
Birendra felt sorry when he went through the highly controversial and "submissive" expressions that came from the mouth of a person who happened to be the country's Prime Minister in the recent past.
He then suggests Comrade Prachanda that while talking on Nepal-India bilateral ties, do keep in mind that Nepal's pride doesn't get eroded and belittled for a few political largesse.
In a more serious tone, the Terai media man says that "I know India tip to toe and that I have developed intimate ties with the top Indian leadership but yet I, for one, would never ever dare to belittle my nation's pride and prestige the way Prachanda dared this time while talking on TV.
He in a satirical manner suggests Prachanda and says that "if you want to remain as a popular and my dear leader then keep "excessive love and honor" for India at a distance or else people may begin taking you in a different manner.
Perhaps this "different" is a hint towards the Sikkimese Prime Minister Lendhup Dorje who dissolved or say help annexed his sovereign nation into the expansionist Indian union for some instant financial and political gains.
To recall traitor Lendhup Dorje later repented till the end of his corrupt life for the act of "treachery" against his own motherland.
Lendhup died an unsung death to what was destined for him.
Is Prachanda toeing the Lendhup path?
Clearly, Prachanda by ventilating his inner mind "favoring India comfortable" statement and that too through the electronic medium has added to the widely believed theory that he is an "India planted, India posted, Indian national with Nepali citizen certificate" and lastly a man close to a traitor?
Now it should be the bounden duty of Prachanda to prove himself that he is not a turncoat and he has not been "implanted" by the expansionist Indian Union to "damage Nepal".
He has to prove. But will India allow him to prove?
Political analyst Mahesh Prasai opines Prachanda's saying that he prefers to install a "comfortable government for India in Nepal" tantamount to an act of "treason" and that the current government led by Prime Minister Oli should immediately "arrest" him on "anti-national" charges and declare him as a "turncoat".
Senior advocate Bal Krishna Neupane maintains that Prachanda has himself made it certain that he was an Indian hand in Nepal and that he must be booked by the competent law enforcement agencies on charges of betrayal and subversion.
Advocate Neupane in all his modesty and honesty believes that the "restoration of the dissolved Parliament" has been done with a grand design which may, as he sees, drag the country towards Sikkimisation.
The first step has thus already been taken in this regards, adds advocate Neupaney.
The senior legal brain confirms that the American Millennium Compact Corporation will get through the restored parliament.
He then adds that with the restoration of the Parliament, the nation now shall head first to Afghanistan and then to Sikkimisation.
The political scenario as per this law practitioner is frightening indeed.
Is Mr. Neupaney hinting at the current Nepali leadership which comprises of Madhab Kumar Nepal, J. N. Khanal and Prachanda who would jointly preside over the "dissolution" of sovereign Nepal? Keep your fingers crossed.
Will they be used as a "tool"?
If one were to believe Balkrishna Neupaney then the Delhi engineered 12 point agreement was all but a calculated ploy to depute late Girija Prasad Koirala, Delhi residing Prachanda and Dr. B.R Bhattarai to control the entire politics of Nepal.
More or less these political men were India driven and India wants through these leaders to capture Nepal or at best turn Nepal into yet another Sikkim, continued Neupaney.
He then saw the urgency to "chase" these India serving and driven anti-nationals from the Nepali territory if the nation were to be saved.
To recall, a History Professor Dr Peshal Kumar Pokhrel long time back had suspected that inside the current Nepal Parliament some "Indian nationals" too had forged to become Nepali parliamentarians.
No investigation so far have been initiated to locate these thugs.
However, several media outlets reported this news but neither the government nor the Nepal Army gave importance to this highly sensitive issue.
If Prachanda can openly voice in favor of India at the cost of his own nation then "we the people" have every right to question his political allegiance and the Nepali law enforcement agencies have an opportunity to dig the matter in details and act accordingly that is in the larger interest of the nation.
Who will bell this wild cat?
But what to expect from corrupt state that has its governing leaders installed by the Indian Union much similar to Prachanda who have thrived in Nepal with the backing of Indian blessings after 2005-6 political change.
All said and done, Prachanda through his February 26 interview exposed not only himself but also denuded the establishment he perhaps is serving from the core of his heart presumably.
The public out roar against Prachanda in Nepal is logical concluding that how the people of this nation could repose trust on an India trained and indoctrinated "fake revolutionary" who for all along his political career have vowed to serve India and die for India?
Sorry to say! This is the general impression of Prachanda among the people across the nation.
It is in this light be taken his recent visit to Mumbai on the pretext of his wife's treatment. He has already visited the US assuring the latter that the MCC-the US project in Nepal shall be approved.
Prachanda during his India visit is learnt to have appealed Shyam Saran to devise a sure shot "trick" that defeats PM Oli as against of not raising the Kalapani-Limpiyadhura-Lipulek land encroachment issue with India.
The trick worked say high placed sources.
Remarkably, as and when Nepal is in turmoil, some India bend leaders rush to Delhi as J. N. Khanal of the Prachanda-Madhav panel went to treat his "unknown disease".
Hardly had Khanal landed in Kathmandu, Dr. B.R Bhattarai developed a "tumor" and rushed to Delhi for treatment.
Much ahead of Khanal and Bhattarai, Mahanta Thakur of the Janta Samajwadi Party was in Delhi for the treatment of his "day dreaming" habit.
Delhi is great in that those who drop in Delhi return fully cured and upon their arrival in Kathmandu, begin speaking Delhi's dictates.
PM Oli's fresh stance: Prime Minister Oli in a determined manner says, "Why should I resign?
This means that he will face the No Confidence Motion (NCM) in the parliament as and when the session convenes.
Peasants Party chief Comrade N. M. Bijukche also says why should PM Oli resign?
I addition, History Professor Dr. Surendra KC too subscribes to this view.
Oli's colleagues claim the following:
#The Party is not formally split or say divided that is the Party still stands united.
Secondly, since the Party is united which means the party has one parliamentary leader that is PM Oli.
Since the party is not officially divided so there can't be the presence of "second" parliamentary party leader other than KP. Sharma Oli.
So the undivided Parliamentary leader of the yet undivided party legally is KP Oli-the Prime Minister.
Thirdly, in case Oli has to face the NC motion then, Oli's camp claims that it has enough votes to face the motion easily.
Fourthly, Oli has the option yet left to announce mid-term poll should he feel that he is going to lose the NC motion.
Fifthly, PM Oli may even declare a state of emergency in case he concludes that he has to continue as PM of the country.
Sixthly, undoubtedly, China-the northern neighbor has freshly come to the rescue of PM Oli for a variety of political and geo-political reasons. It is definitely counter the Indian pressure and threat.
Is PM Oli disturbed: Yes He is under threat?
He has begun sending signals to the general population that he is "experiencing threat both from within and without".
"I fear a physical threat to my life both from within and without", admitted PM Oli the other day.
Threat from Prachanda? Or from ….Prachanda's "comfortable" designer across the border?
Concluding remarks:
Prachanda through his February 26 interview exposed not only India-his former shelter provider, but also the Nepali Congress with which he wanted to form an "India comfortable government" and the Janta Samajwadi Party (JSP) whose leaders have ever remained, presumably, in the good book of India.
Though the Nepali Congress is taken as a "tail" of the Indian regime.
And Prachanda's "India comfortable government" if it is with the Delhi trained Dr. Babu Ram Bhattarai as Prime Minister then it could be the perfect equation preferable for India to turn Nepal into yet another Sikkim. So should we understand that Prachanda in collusion with Madhav Kumar Nepal intend to make Nepal yet another Sikkim in South Asia? What Dr. Bhattarai is planning in Delhi? Keep on guessing.
Can PM Oli be sacked?
Yes. But as and when Oli's opponents succeed in changing the leader of the Parliamentary party by a majority vote. But will it happen?
Will PM Oli keep on waiting till his opponents play tricks against him? Perhaps not. That's all.