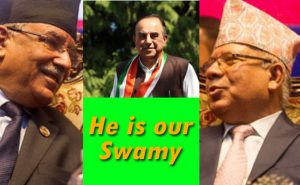 N. P. Upadhyaya; Kathmandu: One need not necessarily be a pro-PM Oli man to understand Comrade Prachanda and Madhav Kumar Nepal and the (negative) contributions that they may have done to "purify" the dirty politics of the country.
But did they purify?
Let's talk.
In fact both Prachanda and Madhav are known political personalities of this India beleaguered country.
To begin first with Prachanda.
He is Comrade Prachanda alias Pushpa Kamal Dahal aka Chabilal who for some good twelve years resided in Delhi as Indian government's special guest in order to wage the so called People's War which pushed back the nation for almost five decades.
India was behind the Nepal damage.
In fact, Prachanda through Maoists War damaged Nepal presumably at the behest of the Indian establishment.
This devastated Nepal's basic infrastructure across the country.
India had a cunning smile on this neighboring damage.
This has already been a proven fact or for that matter an established truth. If any doubt, then one is free to ask Professor S. D. Muni, who in his book has extensively written on the A to Z of the Nepal Maoists movement- a movement that was designed by India itself.
So this should explain as to what Prachanda is in effect speaking on political terms.
Only recently, Prachanda appealed the Indian union to help support in their ongoing agitation against PM Oli.
Let's now take up Madhav Kumar Nepal.
Mr. Nepal is a distinguished leader of the former United Marxists Leninists party-the UML.
Mr. Nepal was one of the few Nepali leaders to have remained in close contact with the Delhi residing Nepal Maoists during the so called India engineered War on Nepal.
Mr. Nepal is reported to have met the outlawed Maoists leaders' right in Lucknow, Siliguri and Delhi many a times going against the established laws of Nepal.
This does mean that Mr. Nepal was hand in glove with the Maoists while the latter was enjoying Royal treatment in Delhi by the Indian government.
Secondly, Madhav Nepal has the sole distinction to have enjoyed the Prime Minister ship of Nepal once even if he was declared "defeated" in the parliamentary elections.
This distinction Mr. Nepal visibly relished as per the "blessings" of the New Delhi establishment.
This perhaps speaks volume of Mr. Nepal's political allegiance and his political tilt towards a nation that has never ever remained friendly towards Nepal at any given point of time.
Thirdly, Madhab Kumar Nepal is also talked to been "deeply" involved in the Lalita Nivas, Baluatar land scam.
Fourthly, Mr. Nepal is also learnt to have forged "intimate" ties with some powerful Bharatiya Janata party (BJP) of India of late more so with the former Harvard Professor Dr. Subramanian Swamy who appears more excited than the Nepali leaders with the restoration of the dissolved parliament in Nepal.
In a way, with the Court's reinstatement order of the Nepali parliament, Indian establishment and its lapdog Godi media together with some BJP leaders are in a cerebration mood.
One is puzzled as to why be the Celebrations in India?
Has it some connections with the parliament restoration? Or is it that Prachanda-Madhav duo fresh victory in Nepal is an event that had been orchestrated by the Indian establishment?
For instance, the Indian BJP leader S. Swamy in an excited mood writes in his Tweeter account, that "Nepal will probably go back to democracy soon and form a coalition government. India must learn to combat the Chinese influence since Oli by his moves became "na ghar ka nag hat ka". So Chinese will have a role. So India will need deft (not daft) political moves to retain balance".
Professor Swamy doesn't hide his excitement. He also draws the attention of his government that the entire political event in Nepal has damaged China's political influence and thus it should be India's turn to pounce upon Nepal as the sitting Nepal PM Oli has suffered a setback-politically speaking.
"India must act smart and exploit from the political situation in Kathmandu", is what Prof. Swamy intends to hint at.
To recall, Professor Swamy is a retired Harvard Professor who during the 1990s had come to Nepal and had more or less "insulted" sitting King Birendra?
Isn't Professor Swamy is highly educated political buffoon?
Later the King stepped down.
Dr. Swami is a devout Hindu but, as the luck would have it, his daughter Suhasini (Haider) Swamy is married to an Indian Muslim.
Nepal will probably go back to democracy soon and form a coalition government. India must learn to combat the Chinese influence since Oli by his moves became "na ghar na ghat ka". So Chinese will have a role. So India will need deft [not daft] political moves to retain balance.

— Subramanian Swamy (@Swamy39) February 25, 2021
Suhasini is the Chief Editor of the Hindu daily, India.
This does also mean that Swamy is scared of the increasing Chinese influence in Nepal and hopes that the emerging Coalition will be a flock of the Nepali leaders and parliamentarians who were basically anti-Chinese.
Is something still to be told of the Indian intentions? Has not Prof. Swamy exposed his country at a single stretch? Perhaps yes.
Though India remains exposed already in Nepali politics. India is twisting Nepali arms since it gained Independence in 1947.
Now the political space in Nepal is free awaiting Indian domination as usual….apparently?
Has Nepal's sovereignty been already surrendered to India by the Nepali leaders? 
That's all.