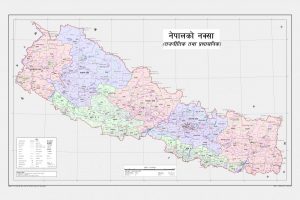 N. P. Upadhyaya; Kathmandu: The Delhi trained and indoctrinated pseudo communist leader Pushpa Kamal Dahal alias Prachanda some ten days ago categorically "accused" Prime Minister K. P. Sharma Oli that he was hell bent on the restoration of the Shyam Saran forcefully overthrown Nepali monarchy.
Shyam Saran is the one Indian national close to the RAW-Indira Congress nexus who engineered the ouster of Nepali monarchy with the visible collaboration of the seven India bend political parties in 2005-6 and was then led by the presumed Indian protégé late Girija Prasad Koirala.
These seven political parties in agitation against King Gyanendra were summoned to Delhi in 2005 November by the Indian foreign Secretary, Shyam Saran, and told them all that if they wanted to be in the good book of Indian establishment, they will have to do away with King Gyanendra first and upon King's departure from the Nepali throne, the political parties in the good book will have to run Nepal's political administration as per the Delhi dictates.
It was a conditional support to Nepali leaders from Indian side.
The seven parties against the King then agreed to what was told by Shyam Saran and his masters in Delhi.
The deal was struck which opened the door for the Delhi residing Nepal Maoists to enter into Nepal in hundreds and thousands.
India's Italian Queen Mrs. Sonia Gandhi, a born Christian, had a personal allergy/political personality clash with the Hindu King of Nepal (revered as Emperor of the Hindus across the globe) and thus she wanted entire Nepal to embrace Christianity.
The King in all his modesty renounced the throne saying that "if my ouster brings in prosperity to Nepal and the Nepali population then so be it".
Fortunately or unfortunately, Nepal after the King's exit from the throne, the once dominant Hindu country has now a comfortable strength of Christian population in Nepal.
Thanks broad day light conversion which, it appears but not sure, that the ouster of the Hindu monarch was for this prime reason.
High placed sources claim that most of the former communists housed in the United Marxists-Leninists (UML) party have accepted Christianity including Prime Minister K. P. Sharma Oli.
Communists perhaps do not believe in any religion.
PM Oli is considered as an all-out supporter of "Korea's Holy Wine phenomenon" in Nepal.
Oli gulped the Holy wine.
Unconfirmed reports even point fingers at Shri Madhav Nepal who is a very prominent leader of the former UML party to have formalized the entry of this Holy wine phenomenon.
Madhav Nepal and Prachanda duo have initiated a crusade to oust PM KP Oli.
Sources on condition of anonymity reveal that the country was made or even forcefully declared a secular State for the Christianity to flourish in a dominant Hindu Nepal.
Though people following different faith have lived in harmony in Hindu Nepal since ages, the declaration of the Secular order in many more ways than one has encouraged some here and there to bring in Christianity through practices that are considered illegal and liable to stringent penal actions.
Yet conversion-speed has trebled over these Republican years. Even in the changed scenario, the Hindus, together with the Christian and the Muslims are living in Nepal enjoying cordial relations with each other.
January 21, 2021 was a day in Kathmandu when the opposing Communist leaders to PM Oli, in a show of strength, brought considerable number of people from across the country and roared that PM Oli's mishandling of the constitution has brought untold sufferings to the people and that PM Oli has to quit-sooner the better.
Most of the people in the crowd did not know as to why they were brought to Kathmandu.
Interestingly, as is the practice, Indian establishment has penetrated into the agitation against PM Oli.
India is both with PM Oli and with the camp which opposes the sitting Prime Minister.
The Indian idea is that if Madhav-Prachanda duo per chance unseated PM Oli, then the former camp could be used and overused much the same way as it had milked the Nepali parties during the Delhi sponsored agitation against the King in 2005-6.
The difference is that Madhav Nepal has replaced late Girija Prasad for the ongoing agitation.
If Prachanda resided in Delhi as Indian government's guest for a decade plus then Madhav Nepal was from the very beginning of his political career in Nepal Communist Party was reportedly a "yes man of India".
Moreover, Mr. Nepal is learnt to have taken birth not inside Nepal but in the nearby Betiah, India-close to Nepali border in the South.
PM Oli also draws his forte from Delhi as against (perhaps) renouncing the claim to Nepali territories grabbed by India (Kalapani, Lipulek, and Limpiya Dhura) for all time to come.
Look the trickery of India.
Delhi sent signals to PM Oli to dissolve the Lower House (Parliament).
The reason given to the Indian signal was that India had some sort of allergy with the Nepali Parliament in that it was this Parliament which "unanimously" approved the political and the administrative map of Nepal which incorporated the lost Nepali lands in the new map published May 20, last year.
It was an unexpected event for India.
For India, the presence of a strong Parliament in Nepal meant that India can do no harm to Nepal and thus the decision to hint for the dissolution of the parliament.
PM Oli did what he was told to do.
But this doesn't mean that India has abundant love and respect for PM OL. Not at all.
Delhi's mission to support the Madhav-Prachanda duo is guided by the reality that Oli's long tenure in Nepal is detrimental to the Indian interests in Nepal due to his China's bend as rumored by Delhi's Godi media.
And for this Oli has to go or at least remain in an unstable condition so that Oli in the days ahead may not dare to make further claims to take back the Nepali territories currently in India's possession even if those landmass were incorporated in New Nepali map last year as mentioned above.
The fact is that India through its posted and paid agents in Nepal came into action the day PM Oli declared that India had captured Nepali areas in the Western part of the country since several decades and it is time to get Nepali lands back.
Sources say that the Madhav-Prachanda duo came at a point in Nepal and in an indirect manner hinted PM Oli that he should have not "annoyed" Indian establishment.
The population across the country remain assured that this duo is "construct in India" and shall work unfailingly for the greater core security interests of the Indian regime.
The general practice in Nepal is that if you want to be in power, you must get the blessings from Delhi.
In the Monarchy days, it was believed that the "power" center were located right inside the Nepali territory.
With the Monarchy gone, crucial matters pertaining to politics is under the discretion of the Delhi power corridor which is damn unfortunate.
But some "traitors" prefer Delhi's command over Nepali politics.
The thrill is yet to come.
Indian media these days have begun airing views that New Delhi should give a second thought to the "idea" of restoration of the Hindu monarchy in Nepal.
Undeniably, when the Indian media raises questions or presents some India bend solutions to diffuse the Nepali turmoil or say political fluidity, it should mean that the views expressed thus on Nepal for "solutions" have emanated from Delhi power centers that control Kathmandu politics.
If this were so and it is so hundred percent then Nepali population must understand that New Delhi is already in an encouraged mood to restore the overthrown monarchy.
And that Delhi has already a readymade plans to reinstate King Gyanendra has come to light when an Indian national, S. Ramesh who was a former additional secretary, Cabinet Secretariat, Government of India, saying " Karan Singh was deputed by the Government of India to cajole King Gyanendra to leave. Maybe it's time he visited Kathmandu again?
This article was published in the Telegraph Online dated January 13, 2021.
Additional secretary Ramesh must not have written in his wild whims, instead he essentially must have written under "command" from Delhi establishment.
To recall, Dr. Karan Singh is the son of late Maharaja Hari Singh who was the King of Kashmir.
Hari Singh during the partition days was coerced by Pundit Nehru at gun Point and forced to cede his Kingdom to the new Indian republic.
For fear of his life, Singh gave a positive nod for the annexation of his territory to the Islamophobic Indian Union.
And the same Dr. Karan Singh is at present the personal assistant of the Italian Queen Madame Sonia Gandhi.
Dr. Singh is also a close relative of King Gyanendra and was sent as India's special envoy to Kathmandu in the year 2006 to convince King Gyanendra to submit himself to the mercy of the India trained seven party leaders who were agitating against King Gyanendra.
Later King Gyanendra even relinquished his throne concluding that his ouster may prove good to the people at large.
Former Indian secretary Ramesh hints that it would be wise for India to send Dr. Karan Singh once again to Kathmandu to appeal King Gyanendra to take over the charge of the Nation.
In saying so, Secretary Ramesh may have in his mind that "an India installed King Gyanendra" would take care of India's core security and other prime interest in Nepal.
This Indian national also may have in his mind that the restoration of King Gyanendra in the throne may also oblige him to "keep China" at a comfortable distance and assist in averting the likely tussle of Delhi and Beijing in Kathmandu.
But of late yet another key country has its eye on Nepal and that is Washington.
Bejing is under tremendous pressure in Kathmandu from Delhi and Washington.
While Delhi prefers Nepali politics under its complete control as it remained in place since Indian independence then, Beijing too wishes to have its fair share of influence in Nepali politics.
Undoubtedly, Beijing has beginning 2008, comfortable presence and thus influence in Nepal.
Beijing now hints to Delhi and Washington that the geopolitical location of Kat
mandu demands the presence of China for it believes that Nepali soil is fertile for both India and the US to encourage Tibetan refugees residing in Nepal to create problems for China.
It is in this light, it should be recalled that President Trump in his last days in office passed a bill that that pledges increased support for Tibetans, including by sanctioning Chinese officials if they try to appoint the next spiritual leader of the Tibetan people, prompting warnings from Beijing.
To recall, on Dec. 21, the U.S. Congress passed the Tibetan Policy and Support Act (TPSA) of 2020, a major bill strengthening the U.S. support of Tibet through humanitarian projects and sanctions of Chinese abuses.
The passage of the Act reportedly prompted frustration in Beijing, with Foreign Ministry spokesperson Wang Wenbin telling a regular press briefing in the Chinese capital that the U.S. should "stop meddling in China's internal affairs and refrain from signing into law these negative clauses and acts, lest it further harms our further cooperation and bilateral relations."
How President Joe Biden behaves with China in the diplomatic front in days ahead shall mean much to the South Asian region including Nepal obviously.
China-Pakistan economic corridor also is expected to feel the Biden tremor.
The seeds of conflict have already been sown.
The lady Ambassador of Taiwan was spotted attending the Biden's inauguration ceremony, January 20.
China so far has not commented on this inauguration event with Taiwanese envoy.
Tibetan refugees have a sizeable strength in Nepal and thus Beijing would wish to treble its presence with greater influence so that it could impress upon Nepal government hoping that it would not allow Nepali soil to be used against China.
But Beijing knows well that Nepali communists are neither reliable nor trustworthy.
If so then it means that China must search a trusted and tested strong political man who could avert impending threat to China from Nepali soil.
But who could be HE who is able to keep Beijing and Delhi both at a distance thereby keeping Nepal safe from the likely Delhi-Beijing tussle?
If not the political leaders of today whom China takes them all as men working for India, then who is this special persona?
Clearly, China has to honestly search for such a character in Nepal who would not ignore the interests of China without minimizing Delhi and Washington's increasing interest.
But who could be HE?
Failing to locate such a man will mean incalculable loss to China.
This is for sure.
China has a constituency in Nepal for Belt and Road Initiative. Opposing USA too has its Millennium Challenge Corporation (MCC) awaiting early approval from Nepal side.
Delhi has several scores to be settled from Kathmandu. First, it has to exert pressure on Kathmandu jointly with Washington.
Approval of the MCC is a joint concern of India and USA both. Secondly, Delhi would not desire to see USA's or for that matter the European Union countries increasing influence in Nepal beyond a "limit".
It is Delhi which has to set the limits of Beijing and Washington, Delhi thinks so.
The reality is that India prefers the US influence in Nepal to the limit which benefits it. So the US must not nurture any illusion that India was a trusted ally of USA. Not at all.
The same way Beijing will also not afford to decrease its clout in Nepal come what may.
Thus Kathmandu is the likely venue for rough and tough tussle in between three powers: Washington, Delhi and Beijing.
The venue is definitely Kathmandu. How Kathmandu will cope with the imminent dangerous diplomatic tussle? Keep on guessing. That's all.
# Delayed posting: Ed.