N. P. Upadhyaya; Kathmandu: Trickster India has Head and Tail both in Nepal.
But this time, India is going to pay a heavy price for its exhibition of "superiority complex" vis-à-vis ties with Nepal. Other South Asian nations too will benefit from Nepal's determined stance taken by PM Oli.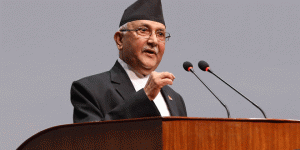 We will come to it later.
The story runs like this:
Prime Minister K.P Oli after the dissolution of the Parliament draws, high placed sources say, adequate strength from the Indian establishment to counter those who back home accuse him to have committed a constitutional crime or staged a sort of constitutional coup by dissolving the lower House.
Partisan political personalities and a special set of legal experts say that the constitution now in force doesn't have any clause as such which allows the sitting Prime Minister to do away with the national legislature at his will.
The other set, equally indoctrinated and influenced by far flung nations in Europe, opines that in a democratic set up the Prime Minister has the inherent right to dissolve the Lower House even if it is not mentioned in the constitution as such.
Fiery debates continue which at times take nasty turn that divides the nation on political lines.
In fact, the nation stands already divided.
Naturally, pro-India-EU and anti-India-EU rhetoric could be seen in the social media including the tweeter.
As such the result is that for a clear single mistake, several blunders are being committed knowingly or unknowingly.
The former Chief Justices of Nepal too have joined the band of those who prefer to accuse PM Oli for the dissolution of the parliament.
In a subjudice case, the utterances of the Justices even in an oblique manner is an attack on the independence of the Judiciary.
But the Prime Minister also is talking to influence the verdict of the Apex Court which is yet to be pronounced.
The fun is that both, in favor or against, both derive their strength from the known "charlatan" from the South. Some even see the invisible hand of the European Nations as usual against the House dissolution.
The Nations of Europe too have been found quite often meddling in Nepali affairs beginning 1990s.
Thus PM Oli who dissolved the parliament is very close to the Indian establishment as per the thug Indian professor Sukh Dev Muni, then his opponents who oppose the Parliament dissolution too enjoy the blessings from the same notorious expansionist regime-India.
Professor Muni in a fresh article asserts that India is fully backing PM Oli for reasons unknown.
Muni says that though PM Oli is close to India this time but confirms that Oli was a China man.
It was this Indian Professor who molded the willing Nepal Maoists for the India's security benefits.
Strong rumors have it that Professor S. D Muni encouraged both Prachanda and Dr. B. R Bhattarai to "work" for the RAW agency as its certified agents in Nepal.
Some India exported media men too have been serving the Shyam Saran wing of the RAW, it is believed.
Having said that, some clever brains opine that PM Oli is being dragged to the Indian camp only to distance Nepal Prime Minister from China.
Nepal PM Oli interviewed:
The interview of Nepal PM Oli by Indian journalists, January 10, 2021, gave an impression that India was trying to bring Oli in its camp.
India's inner desire, as much as could be grasped from the interview is that Nepal develops enmity with China which Nepal can't afford for some "geo-political" considerations.
India is hoping against hope.
PM Oli told Sudhir Choudhary (ZEE News) point blank that Nepal will at best remain "neutral" when it comes to the question of India-China rivalry.
The India-China tussle in Galwan valley last year has nothing to do with Nepal, Oli made known to the Zee TV.
Neither Nepal will take the side of India nor of China, clarified PM Oli to the utter dismay of Sudhir Chaudhary.
"Galwan tussle was India and China's internal problem", so said PM Oli to the Zee TV anchor Sudhir in Kathmandu.
Oli was straight in saying so.
Now back to the main story, the needed forte to the opposition to PM Oli too flows from the CIA-RAW nexus that is being, as talked, controlled by the Sonia Gandhi's assistant Ambassador Shyam Saran.
India is with both the sides in Nepal: India is with PM Oli and with concurrently with Madhav-Prachanda duo as well.
The latter is against PM Oli and taken as India's trusted men in Nepal.
The Indian idea is to win whosoever comes out with flying colors.
India should benefit. Let the fools in Nepal fight amongst themselves. India thus is Dr. Jekyll and Mr. Hyde.
This is Indian trickery and thuggery. Indian trickery is par excellence in the world.
Father of RAW, Shyam Saran is the same rogue Indian national who first damaged and then fractured Nepal and its social fabric when he "exported" in 2005-6 the Delhi residing Nepal Maoists through his India born Nepali protégé late Girija Prasad Koirala.
Undeniably, late Koirala was then used and overused by the Indian establishment (led by Indira Congress then).
Prachanda still remains obedient to father Shyam Saran, it is believed.
International crook Saran even as of now controls the politics of Comrade Prachanda-the synonymous of devastation and destruction.
High placed sources confirm that Madhav Nepal and Prachanda both were in the pocket of the Indian regime and have been working day and night to unseat PM Oli from the current Chair.
Sources say that India deployed its presumed top henchmen Madhav and Prachanda the very next day when PM Oli incorporated Nepal's India gulped lands into a new political and administrative map of Nepal.
PM Oli managed to publish the Nepali map incorporating the lost lands of Nepal like Kalapani, Lipulekh and Limpiya Dhura on May 20 last year.
Since then India is not even in talking terms with Nepal and the paid Godi media accuses PM Oli that he dared to do so at the behest of China in the North.
That was the height of nonsense expressed by Indian Army Chief M.M. Naravne May 15 last year.
For the bilateral talks, Foreign Minister P. K. Gyawali is in India with the full backing of PM Oli to discuss the bring back Kalapani Lipulekh and Limpiya Dhura to Nepal.
Sources in the former United Marxists Leninist Party authorize that Madhav Nepal was born in India and Prachanda spent some good ten years in Delhi enjoying Indian government's hospitality on condition that upon return to Kathmandu from Delhi will damage and break Nepal as per the plans and the schemes of the Indian management.
So these India influenced and encouraged Madhav-Prachanda duo are obliged to work as per the instructions of their Delhi masters.
Madhav Nepal to recall, is the one who believes in the might of the Indian military and so he once in the beginning of the 1990s, proposed that his UML party should appeal India to send Military forces to "tame and teach" a befitting lesson to Nepal King Birendra if the latter denied to step down from active monarch to a constitutional one.
This explains Madhav Nepal's India bend. Could this be for free? Not at all.
But India should abandon Madhav Nepal from its trusted list as Mr. Nepal is the one who is supposed to be the prime figure to have trebled the influence of Christianity in Nepal.
Mr. Nepal though a Hindu but people here claim that he is more Christian than the Pope.
Mr. Nepal is the main figure to have introduced the Holy Wine phenomenon in Nepal with the help of his Korea Christian friends.
Rumors have it that Koreans in hundreds are in Nepal to have engaged themselves in the act of conversion of the Hindus to Christianity.
Some even doubt Mr. Nepal to have already embraced Christianity.
With the airing of the interview of the Zee TV with Nepal's Prime Minister, observers assume that PM Oli will hence forth be taken as a man comfortably distanced with India in that the manner and the way he has answered ZEE TV's somewhat "India loving" childish questions, it does appear that the men in charge of Delhi's South Block, including Prime Minister Modi himself, will not dare to berate, belittle, undermine and ignore Nepal henceforth.
PM Oli categorically said to the Indian interviewer that "India and Nepal" were two different but equal sovereign nations immaterial of the size.
PM Oli also sounded PM Modi through Zee TV that India is neither the "big brother" of Nepal nor PM Oli will settle for less with PM Modi simply because the latter was two years senior to him in age.
In fact, PM Oli took a "tutorial class" of Indian media man Sudhir Chaudhary who just remained dumbfounded during the interview and listened Oli's comments as an obedient student confronting the School headmaster.
Oli hinted India not to nurture the big-brother superiority complex in its bilateral conduct with Nepal.
PM Oli gave tentatively an ear pleasing "lecture" on the History, geography, gravitational force, medicine, meditation, and also of the surgical science which mainly originated in this part of the world, ( South Asia) and more so in the Nepali landmass.
The most puzzling for Chaudhary of the Indian Zee TV may have been the first hand disclosure of Prime Minister Oli that Nepal had since millennium remained a land of knowledge and debates based on religion, philosophy, science et al.
He cited the example of King Janak of Janakpur where sages like Yangyavalk, Lady Gargi and Asta Bakra who used to debate for days and months on religion and philosophy and social sciences even in those days and the landmass where these debates took place were all belong to today's Nepal.
Oli also aired that if invited he was ready for delivering a lecture at JNU, Delhi.
Yet another jolt to India was given through Zee TV when PM Oli rejected the Indian notion that India was the boss of the region.
He said no. India is not the boss.
When two sovereign Prime Ministers seat for talks, then officially both are equal and sovereign and thus there is no question of ascertaining as to who was the "boss"?
Size may differ, but PM Modi is equal perhaps to a sovereign Prime Minister of Nepal.
PM Oli asserted his equal status in the conduct of bilateral talks and standing.
PM Oli in the course of interview, also hinted to India that for Nepal, China too is equally important as India is for Nepal.
All that we wish, said PM Oli, is to benefit from the giant size and economy of our immediate neighbors in the South and the North.
As an independent and sovereign nation, for Nepal both India and China are equal and we want to benefit from the stupendous achievements of our immediate neighbors.
PM Oli confidently assured India through the Zee TV that should the time demand, Nepal can and will extend its good offices to "mediate" in between India and China to settle their political and boundary disputes.
"The current leadership in India, China and Nepal are of the same age, and thus Nepal can easily bring in the leaders of India and China (Oli was referring to PM Modi and President Xi Jinping) both to the negotiating table so that they themselves could settle their disputes.
On a trial basis, India is thus advised to seek the good offices of PM Oli to convince President Xi Jinping to come to the table and initiate dialogues with PM Modi.
Sudhir Choudhary from India had come to Kathmandu concluding that he would prevail upon PM Oli and will press the latter to come to the terms of India by distancing China.
However, this was not forthcoming as it became evident during the interview session that PM Oli have had much knowledge of history, geography, politics, science, surgery, medicine, religion, conduct between nations and philosophy and much more than the man in his front from India.
Poor Chaudhary was sitting hands crossed and became speechless perhaps thinking that Nepal Prime Minister was much above "intellectually" than his own Prime Minister Modi-the declared ruffian and scoundrel of South Asia.
Similarly, PM Oli talking with Indian journalist Palki Sharma Upadhyaya of the Gravitas-WION ( World is One) almost at the same time as with ZEE TV, stated that Kalapani, Lipulekh and Limpiya Dhura were the exclusive landmass of Nepal and that "we are ready for talks with India to take our lands back come what may".
PM Oli was determined in his tone.
To a question of Palki Upadhyaya as to whether the Indian embassy in Kathmandu tried to unseat him ( PM Oli), Nepal Prime Minister without feeling any hesitation told Palki that " it was true" that the Indian mission in Nepal had tried to destabilize his Chair.
India thus stands exposed.
At least a billion people in South Asia and much beyond saw in the Idiot box PM Oli alleging boldly that it was Indian embassy that tried hard to unseat him. A rare event indeed.
This proves that India is synonymous to destabilization in the entire South Asia.
PM Oli is the first Prime Minister in this region after Pakistan and Sri Lanka to have point blank told the Indian media that "Indian villainy" was at its highest peak in Nepal and that it must stop.
As regards a question on Prachanda made by Palki Upadhyaya, PM Oli said that Prachanda aka Pushpa Kamal Dahal is out and out an "unstable" political man.
His character is unstable, said Oli.
To boot, Prachanda is a declared India hand in Nepal and is currently in a mission together with yet another India born and bend Nepali national, Madhav Nepal, to unseat PM Oli presumed to be under the instructions of Indian regime.
To recall, Prachanda was in Delhi in the 90s and was treated as India's guest for over a decade in which he inflicted damage to Nepal as per Indian instructions.
Palki's question on Prachanda was Indian desire to feel the pulse beat of PM Oli as India still is investing on him in order to get PM Oli unseated from Chair.
Many believe in India that Oli is a China man to which he is not rather he is yet close to Delhi.
Despite Palki's wish and her country's preferences to dub Oli as China man through tricky questions, PM Oli told that neither Nepal has any border problems with China nor Nepal is afraid of the India and the West's manufactured notion of "debt trap" of China".
"Yes! We ask money as a loan from China for our development projects but we accept the money which is in our capacity to pay back.
"We are not afraid of the manufactured Debt Trap theory, Oli sounded.
In sum, both the Indian journalists, Sudhir Choudhary and Palki Upadhyaya, tried their best to influence PM Oli during the course of the interview but as the luck would have it, PM Oli made them speechless and spoke what he had to speak as the Prime Minister of a sovereign and ever independent nation-Nepal.
Some say that India desires Nepal PM Oli to mediate on escalating India-China border dispute.
Thus, PM Oli at least for a section of Nepali intellectuals is a Statesman par excellence. But high placed sources say that the whole interview was a doctored one. Oli only answered planted questions. (Details next week). That's all.
( A delayed posting in the telegraphnepal.com .Written for the people's review weekly last Monday-Ed).