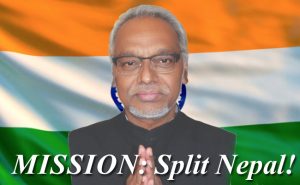 N. P. Upadhyaya, Kathmandu: Nepal's political watchers who have closely monitored Rajendra Mahato's meteoric rise in Nepali politics remain askance as to how this Indian national who entered Nepal somewhere in the mid-sixties through a fake (it is highly presumed) Nepali citizenship certificate could entrench himself so deep into the national politics that he is almost a king maker of sort and has the ability to construct or deconstruct a government?
If his Citizenship certificate is fake then instead of Mahato, the Nepal's district official who granted him the certificate must be hanged.
Hridayesh Tripathi is on record to have once said that "If Nepal has been cheated then it is only by those who wear Daura-Suruwal with Dhaka Topi".
He is correct in that those authorized to grant citizenship certificates are the Nepalese with Nepal's national dress.
So the one who granted Rajendra Mahato, this certificate, as against hefty bribe, should be searched and declared a traitor of the Nation.
Likewise other officials who amassed wealth in the past in a similar manner too should be penalized and their "property" earned through selling Citizenship certificates across the country should confiscated and the officials committing such crimes be taken stringent penal actions.
To recall, there is not such a Nepal government formed under various Prime Ministers in the past wherein Rajendra Mahato may not have been a part of the Nepal Cabinet?
He prefers Ministry of Supplies as and when he is elevated to the rank of a Minister.
This time he is elevated to the rank of a Deputy Prime Minister.
PM Oli appears to have gone senile, say strong nationalists.
After all which force on earth is behind Mahato for awarding him such a phenomenal rise and height in Nepali politics? Mahato enjoys favor from internal or external sources?
Surely, external forces inimical to Nepal.
KP Sharma Oli and Rajendra Mahato were supposedly born enemies, however, which force on the planet brought the two repulsive men together that forced KP Sharma Oli to canvass in favor of the suspected/fraudulent Indian national Mahato who won later the Parliamentary seat from Dhanusha, Janakpur defeating a genuine Nepali contestant?
This is utterly puzzling.
Mahato is considered as a prominent leader of the Janata Samajwadi Party-the JSP.
What may puzzle many a political brains here is the "fact" that Rajendra Mahato is the one who obtained his citizenship certificates from Nepal much ahead of his own father Khobhari Mahato (Koiree-Sundi) acquired?
This is mind boggling indeed.
Rajendra Mahato's house in Sitamarhi-Bihar still could be seen, say those nepali nationals who went there to ascertain Mahato's real home in India. 
Those who know Mahato better claim that Rajendra Mahato is an Indian national from adjoining Koharwa village, Bihar, India.
Poverty stricken Mahato entered Nepal and happened to work at the Royal Nepal Airlines Corporation, Simra Branch as a "Driver-loader".
Later when the Indian spy agency RAW preferred him as the best man to destabilize Nepal, he began to serve the RAW agency in Nepal and as per the rule, he have had to report to the RAW room inside the Indian embassy as and when he picked some juicy news from Kathmandu political circles.
His main job was, we have been told, to spread hatred among the Pahadi Nepalese and the Nepalese residing in the Terai plains.
He did his assigned tasks well and later rewarded by an alien agency in a foreign country-Nepal.
He succeeded to a greater extent in his assigned "mission" time permitting which brought him closer to the Nepal Sadbhavana Party led by Gajendra Narayan Singh-a prominent "regional" leader from the Terai plains.
Mr. Singh. Formerly a Nepali Congress man, though claimed that he was fighting for the cause of the Nepali Teraians/Madhesis but in effect it was, many believe, Singh (Late) kept himself engaged in creating some sort of rift in between the Nepalese national living in Hills/Mountains and those who lived in the Terai plains.
Undeniably, the seeds of differences that the late Singh sowed have divided the nation in to two halves.
Sing's staunch follower Mahato's occasional statements against Nepal forces one to believe that this presumed Indian national will one fine morning "submerge" Nepal into the Indian Union.
Thus his fresh inclusion in the Nepali Cabinet bodes ill for the entire nation.
Some even recall, Rajendra Mahato shouting slogans like "Nepal Ko Ham Sri Lanka Bana Dengey (We will turn Nepal into the next Sri Lanka).
In fact, Mr. Mahato hinted that he will act like the Tamil Tigers who under India planted Prabhakaran had for almost three decades taken hostage to the Island nation.
Thanks the Pakistani and the Chinese military that Prabhakaran died an unsung death and thus Colombo took a sigh of relief. Thanks President Mahinda Rajpaksha who did away with the India planted Sri Lankan terrorist in the year 2009.
Mahato at time of the India imposed Blockade of the year 2015, talking to an Indian daily said that "Nepal can't even breathe without Indian help".
Mahato's repeated inclusion in the Nepali Cabinet does tell that he is speaking truth.
This again thus raises an important question: Which force on earth pumping him?
Genuine Nepalese like Dr. Binaya Paanjiyar, an activist from Terai/Madhesh claims that Minister Mahato-the newly appointed DPM of Nepal by PM Oli is on the regular payroll of the Indian embassy in Kathmandu.
He, Mahato, may be drawing a hefty amount from the Kathmandu based Indian mission as he is entrusted with , as Panijiyar claims, the treacherous task to divide Nepal into pieces much the way LTTE leader Prabhakaran wished for Sri Lanka.
Slain Indian leader Rajiv Gandhi had planted Prabhakaran in Sri Lanka as the Pakistani media claims the same for Hamid Mir.
Dr. Panjiyar also says that Minister R. Mahato is an India born Bihari national who has been raising the citizenship issue in the Terai/Madhesh is creating problems in Nepal under New Delhi's filthy instructions.
This Terai national Panjiyar says that "genuine Nepali nationals in Terai plains do not get citizenship certificates but instead the certificates go to the hand of those who have been brought enmasse by persons like Mahato and his "colleagues" across the border.
Yet another nationalist Punya Gautam claim that Rajendra Mahato is out and out Indian national and that Mahato is in possession of a forged Nepali Citizenship certificate.
Some even say that creating chaos in Nepal is Mahato's prime business for which he is "assisted" by the employer agency in Delhi.
Is it that Mahato is answerable to Delhi only? 
Nepal government sources say that Mahato received his certificates from Malangwa, Sarlahi district in Nepal that adjoins India on the other side of the border.
Once when there was a big hue and cry about Mahato's forged citizenship, the entire office of the Chief District Officer in Malangwa was set on fire to save Rajendra Mahato.
Malangwa is the district head quarter of Sarlahi district.
This speaks how powerful our Rajendra Mahato is.
By the way, Nepal's Apex Court has for the time being ordered the government of PM Oli not to go ahead with the distribution of Citizenship certificates in Nepal's Terai/Madhesh.
It is time to investigate as to who is this Rajendra Mahato? Is he an Indian national or not? That's all.