N. P. Upadhyaya; Kathmandu: A strong rumor in the recent weeks had it that Nepal Prime Minister K. P. Oli was all set to reshuffle his cabinet ministers.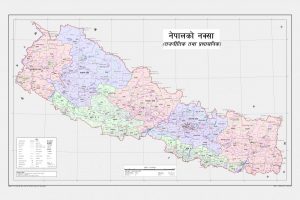 Reshuffling of ministers in a democratic system is always the prerogative of the sitting Prime Minister.
However, the rumor hinted that PM Oli is kicking out a minister(s) from his Cabinet who was suspected of selling Government's secret information to an alien "neighboring" country.
So this is special minister with a clear bend with loyalty also?
Though the name of the country which wished to buy the secret information from a Nepali minister was kept a guarded secret along with the very good name of the minister who used to sell such secret cabinet decisions at regular intervals.
Though it was kept a highly guarded secret, however, looking at the composition of the ministers in the present cabinet, one could easily make some rough calculations and make guess works as to which, minister may have streamlined the flow of the State information to the "enemy" country in lieu of hefty amounts.
Selling of State information(s) have become a common phenomenon in Nepal. It is not new altogether.
Interestingly, even the system which was controlled by the "active King" during the Panchayat days could not check the "smuggling"' of the secrets across the border mostly in the South-Nepal's traditional friend to which it is not.
The flow was so smooth that one could not even get the inkling of the whole treacherous affair.
So when the "active monarch" failed then, obviously it would have been pretty difficult for the Medanta Hospital dwelling Prime Minister Oli's Republic to bring to a halt to all these "nation's secret selling" practices.
After all the System have had to be changed for doing such nasty businesses?
Reports had it that a month back or so that one minister was found reporting verbatim the proceedings of Nepal Cabinet under PM Oli. Some even claimed that the "minister" used to keep "small tape recorder" inside his pocket at time of the Cabinet meeting chaired by PM Oli.
The intentionally leaked "state secrets" to a so called traditionally a neighboring country (that it were never) got testified when the sick and sleazy paid lapdog(s) of unstable prime minister of a friendly country began parroting, howling and barking against Nepal verbatim as what had been leaked through the tape recorded message to the most corrupt and unapologetically nationalist media in the world.
To the extent that the sitting China's lady envoy Hou Yanqui was said to have honey-trapped the sitting Nepal Prime Minister.
Instead, reports have it that the PM of this alien country was honey trapped by a lady minister in his cabinet.
The foul photo of Prime Minister with this high flying lady had appeared in the Indian social media.
Back to the story, what had been the mode of payment for the smuggling of the Nepal Cabinet proceedings to the minister who unapologetically dared to serve the alien bully is not known or better say was kept under the carpet but the rumored ceremonious ouster of this highly influential (both from across the border and Nepal) gentleman is yet to happen.
If per chance the reshuffle takes place and if per chance the spotted and recognized traitor even retains his previous portfolio then that too be in no way taken as a wonder as the final selection of Nepali minister is not in the authority of Nepali Prime Minister.
More so appointing of moles is neighbor's job.
Instead, Nepal PM is just the go-between the alien nation and the timid Nepali chief of the executive.
This particular "enemy nation" does so with an objective of receiving key secrets and information from Nepal and that is why some "highly paid moles" are inserted in Nepali Cabinet.
This way the process goes on and on.
This means that he is still furnishing secrets to the one for whom he is working covered with nationalist mask?
Traitors feel pleased when they cheat and deceive their own motherland, it is believed.
Jay Chand is a classic example.
Yet another source claims that Nepal Prime Minister is always surrounded by a set of "foreign posted agents" who associate themselves with the country's chief of the executive and extract key information later to be leaked as against the financial transactions.
PM Oli is still encircled by double playing advisors, the rumor goes.
This finally means that passing on secrets to the bordering land is a long process or say a business for some anti-nationals from the days of Panchayat and even in this new order which came with a big bang by agreeing to do away with the Nepali Royal institution.
Isn't it?
Cutting the story short, the Nepalese media and so called intelligentsia prefer not to raise such issues which makes their own country hollow as some domestic moles/paid agents posted by aliens pass on the state secrets to or sell the same for his or her political and financial benefits there by hitting the nation's prime interests hard.
The tragedy with Nepali observers is that this set of brilliant brains (?) prefer to laud the contributions of foreign leaders at the cost of their own Unifier of the nation.
Had it been not so then why Nepal and its present day leaders exhibit their eagerness in celebrating the Birth day celebrations/anniversaries of alien personalities who have had no contributions in the making of Nepal a Nation-state?
Can they be much taller that the Unifier of Nepal who has awarded the Nepalese with a small but beautiful and internationally recognized landscape to which we call Mother Nepal?
Unifier of Nepal, late King Prithivi Narayan Shah is certainly and unquestionably greater and taller than a world recognized racist whose large size statues are being rightfully demolished by State authorities across the globe.
The reasons must have been serious or else why to demolish the tall structures of a veteran political man?
Or it could even be orders from the alien nation which takes Nepal as an enemy nation.
In fact the reverse is true.
Okay If Mahatma Gandhi as a matter of respect and honor to this Old man who liberated India from the British India Company is a Great Guy then is our own unifier of this nation P.N Shah less taller and greater that the alien Indian leader who later is being taken as racist?
Have the Indian nationals ever reciprocated the same love and honor for our towering political men who have built this nation?
Have the Indian nationals and leaders ever praised or even reciprocated contributions of our heroes and builders of Nepal who have had tremendous contributions in the Independence movement of India.
The 1942 Quit India movement saw several Nepali leaders landing in Indian Jails including late B. P. Koirala and Man Mohan Adhikari and their several colleagues.
Unfortunately, it is this political set who later after the overthrow of the Rana Oligarchy more or less treated Nepal as an extended territory of the Indian establishment under Pundit Nehru.
Have the ungrateful Indian leaders and the establishment or for that matter the Indian nationals talked high of any one of Nepali leaders so far?
Indian nationals do not read history.
None. If so then why should we celebrate a function in the name of Mahatma Gandhi whose, as the International media claims, was an out and out racist whose racist behavior encouraged the leaders of some European nations to demolish his statues.
The Europeans did a marvelous job. A historical blunder timely corrected.
Instead of boycotting the alien old man's celebrations in Nepal, a selective set (which is apparently trained and indoctrinated) of Nepali leaders on the contrary, take the presumed racist Gandhi as their own hero much more than their own father of the Nation-King Prithvi N Shah.
This is fanaticism of the highest order and thus unacceptable.
Against this backdrop, Nepal Ambassador Pandey spoke more than correct in that he is the one who at least dared from Nepal to talk in very simple and plain words that "Big brother", or the declared and internationally recognized hoodlum of South Asia has been occupying Nepali lands since decades and decades.
The out and out hooligan media across the border has mastered the art of slander and the spread of derogatory words made against the leaders of Nepal plus also daring to insult the sitting lady envoy of China in Nepal.
Ambassador Pandey in China talked sense, however the nonsense media of India and its branch office in Nepal prefer to raise the issue suiting to the Indian size and choice.
Needless to say some, trained leaders in Nepal also have been found copying the line adopted by their "teachers" across the border in the south.
Understandably, it is the same set of politically inclined media and politicos who have had encouraged Indian establishment to pounce upon Nepal during the India engineered movement of 2005/6.
It was an India sponsored upheaval in Nepal.
And it is this set once again which would wish to see India continue to occupy Nepali landmass.
The Nepali loyalty has shifted across the border which is what makes the Nepali nationalism weak and vulnerable.
If the split-personality Indian foreign Secretary S. Jay Shankar can come to Nepal and warn the leaders here not to promulgate the new Constitution then why should Nepal's Ambassador Pandey not speak the truth?
The split personality, S. J Shankar, is also a man ridden with high inferiority complex syndrome demanding a thorough treatment in Japan-the land of birth of his wife.
By the way, Shankar's son is an American national.
And the truth being that India is number one oppressor for Nepal and the entire nations living in South Asian region including Bangladesh.
To a question of the Global Times asking the Nepali Ambassador Pandey "that some foreign media outlets, especially in India, said China's increased ties to Nepal have triggered security concerns. What's your take on this?
Ambassador Pandey with a cool mind and keeping the composure in a healthy state replied that "It is not based on facts and it is a biased attitude. That is an expression of the fear psychology. Nepal has been an independent and a sovereign country when India was the colony. We are not inclined to any of the ideological groups or any sort of power".
The fact is that the Indian media is biased and India at the moment was suffering from fear psychology is the correct answer that should have come from Nepal envoy which the envoy spoke out.
So what is the harm in telling the hard fact that India was a British Colony in the not so distant past?
To yet another question of the Global times, the Nepali envoy Mr. Pandey says, in his own words, "India has occupied some of our land. In 1962, when there was a war between China and India and India was defeated at the time, some of the Indian army temporally stayed in our land. But later on, they claimed that belonged to them. So that is our problem. We are trying our best to sit together and resolve this border issue".
This is again true in that during the 1952 war with China, India was badly defeated and the defeated Indian Army stayed in Nepali territory in the far West and it was this temporary stay to which the Indians forcibly made it a permanent sojourn.
Later the ungrateful Indian establishment swallowed up the Nepali landmass. The monster in South Asia that India is.
So what is wrong? This is the fact and facts ever remain facts.
The fact is also that India has turned down Nepal's requests for bilateral talks to sort out the land dispute.
China surely have had defeated India and that after this insulting defeat Pundit Nehru appealed King Mahendra for a piece of land in Kalapani area for some time. This is the reality.
To a question of the Global Times, Ambassador Pandey said, "No matter whether it is Macao or Hong Kong or Taiwan, or Tibet, every part of China is China; we firmly stand for this one-China policy".
What Pandey said is Nepal's standard and determined policy on one China. So if he reiterated the nation's policy on China then it wasn't a crime that has been made a wrongdoing by India bend media and so called tilted intellectuals who prefer not to raise their voices as and when India imposes an Economic Blockade or for that matter gulps Nepali land mass.
It is this set of slanting Intellectuals who feel proud in eulogizing personalities from across the border than taking note of their own heroes and builders of Nepal.
This is unacceptable.
India and its almost paid henchmen in Nepal (mostly in Kathmandu) must understand that India was a British Colony; India has tasted slavery for centuries; India is currently ruled by Hindu zealots; India is not a civilized nation to what it claims; India is a country that takes pleasure in tormenting other nations in the immediate neighborhood et al.
In addition, it is this set of India curved-intellectuals who preferred not to speak a single words against Indian Army Chief General M. Naravne who on May 15, 2020 accused Nepal to have been poking the Indian nose on the behest of China.
Nonsense Naravne made these comments well after Nepal incorporated some its own lands that had been gulped by the expansionist India since six decades or so more so after India was mercilessly defeated by the Chinese at the war fronts in 1962.
This undisciplined Army Chief in doing so exhibited his incompetence in being honored with honorary army Chief of Nepal.
Mr. Naravne is the one who has been stripped off this post in Nepal.
For this set of India bend men and intellectuals, talking on Nationalist issue tantamount to a misconduct and that the more you exhibit your India bend, you are a true Nepali nationalist whose idols are Gandhi and Nehru credentials.
For some even Modi is.
The Gandhians and Nehruvians plus the Modians wish Nepal to be an extended territory of Bihar and Uttar Pradesh, India.
It is this defeated mentality of some of our brilliant brains that India invests billion and billions of rupees in Nepal on spying activities.
And "we the people" of this imposed republic thus enjoy from our own political bankruptcy and submissiveness.
And it is this subservience and compliance of Nepali leaders that has encouraged hawkish Prime Minister Modi and his Hindutva gang of four team to crush Nepal. Thus for Nepal, China is far better than India. That's all.