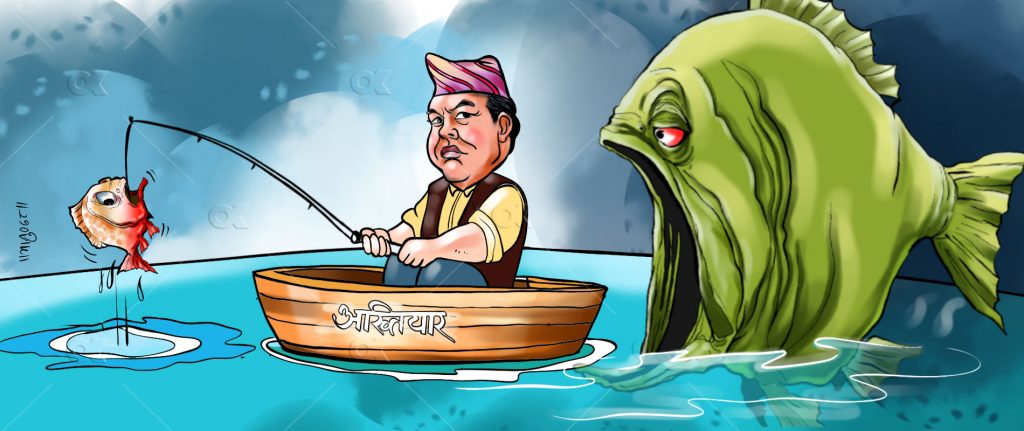 On April 21, the Supreme Court ordered the constitutional anti-corruption body, Commission for the Investigation of Abuse of Authority, to stop carrying out sting operations to arrest government staffers receiving bribes. Since the decision, the anti-graft body has relatively been inactive as it has been dealing with minor cases and culprits who have committed major crimes take a sigh of relief.
Following the ruling, the CIAA, until July 15, had filed 16 complaints at the Supreme Court. Out of the 16, four cases were related to bribery while the remaining 12 were corruption cases rising up to Rs 400,000. The only major case registered at the CIAA is the one against officials of the then Tax Settlement Commission.
As the apex court ordered the CIAA not to offer bribes to government officials themselves to catch them, their attention should have shifted to major frauds taking place in the country. But, that has not happened as it continues to focus on catching government officials red-handed when accepting bribes.
As things stand, works are underway to amend the regulation and guidelines regarding raids. After this, the CIAA cannot offer bribes to arrest government officials, but it can take over bribery cases and book offenders. This gives a message that the CIAA is not willing to change its working pattern as it still wants to work in the same manner it has always worked under.
"We're forming a work plan that will focus on collecting evidence before we book people," says Narayan Prasad Risal, the commission's spokesperson. "There are talks that we'll be continuing with sting operations, but we're not doing that. We just want to end bribery in the country as we can still take action against those who take and offer bribes."
But critics argue that the CIAA is taking the easy route as it wants people to believe it is doing something by continuing to book people for taking bribes of a few thousand rupees while people who have duped the state billions of rupees escape unpunished.
Staying away from politicians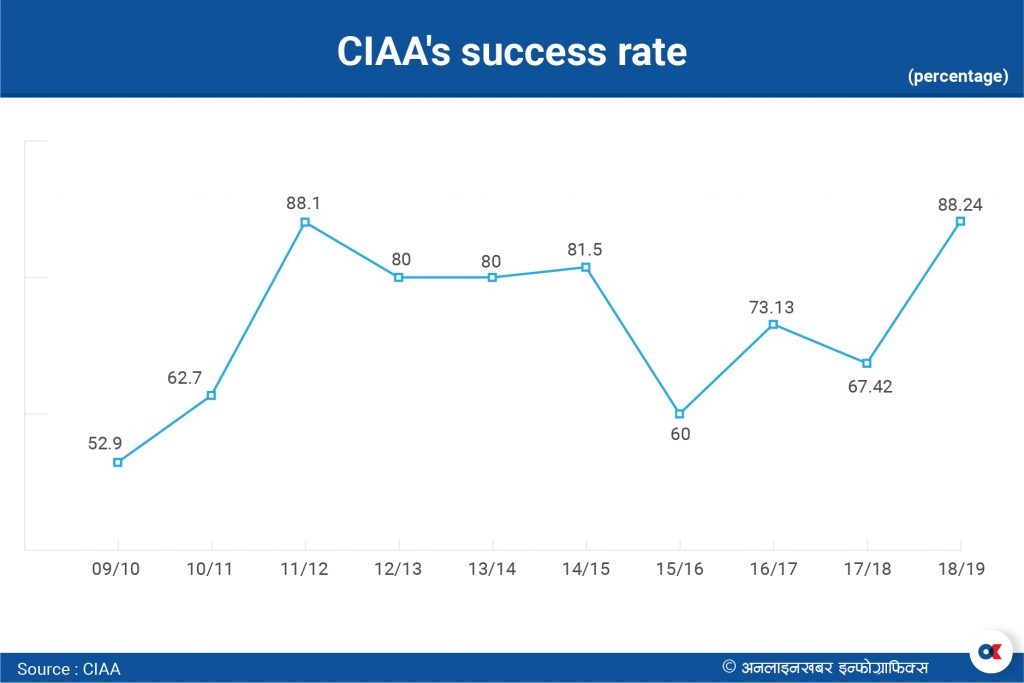 The CIAA, which was without leading officials from 2007 to 2013, operated under controversial leadership after that. In the past eight years, under the leadership of Lokman Singh Karki, Deep Basnyat and Nabin Kumar Ghimire, the CIAA avoided cases that involved politicians. There were instances in which the CIAA was used by the powerful to serve their purpose.
Karki, who bullied and booked people who were against him, avoided all cases that were related to irregularities done by influential political leaders or parties. Basnyat's term was also surrounded with controversy as his entire period was spent filing corruption cases against officials from the Tax Settlement Commission. Ghimire, on the other hand, only focussed on small cases as he turned a blind eye when it came to major corruption cases in the country. He allegedly also put on hold multiple corruption cases due to pressure from Baluwatar. 
Former Joint Attorney General Murari Prasad Poudel says that the CIAA no longer has the ability to handle major corruption cases.
"If they want, they have all the resources to investigate irregularities during major construction projects. There are so many of these cases, but they don't investigate these cases for no reason," says Poudel.
It is not that it has not booked high-ranking politicians and officials. In 2016, it booked then state finance minister Lharkyal Lama for amassing property illegally. But, the Special Court acquitted him while cases against former ministers Bikram Pandey and Bijaya Kumar Gachhadar are still on trial. 
Apart from these few examples, the CIAA has been reluctant to take action against active politicians.
A former secretary at the CIAA, Purna Chandra Bhattarai, says that the CIAA has been too slow to amend its working procedure as people have found new and better ways to indulge in corrupt activities like bribery and fraud.
"In the past few years, we've had a hard time investigating issues related to properties. Right now, the culprits are one step ahead of the CIAA and that is due to its archaic rules and procedures. We have to change that if we want to catch these frauds."
Apart from Lama, cases related to the property appear to have been avoided by the CIAA for the past 15 years. 
Raids: A means to show existence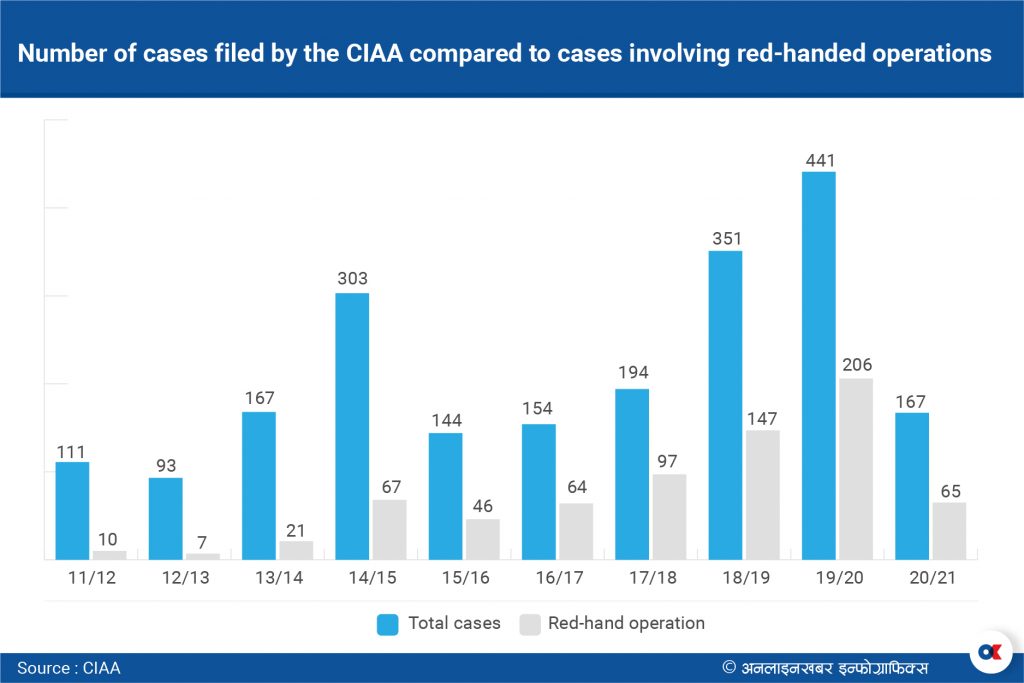 Last year, the CIAA filed a record of 441 cases at the Special Court. Most of these cases (206) were filed after a sting operation led by the CIAA, in which it caught the culprits red-handed. Looking back five years, almost half of the cases filed by the CIAA are these types.
The CIAA says the only reason there are so many of these cases is that most of the complaints they receive are related to bribery.
"People come to us with these cases. Because these cases are filed, we have to look at them. We can't say we have better things to do and stop taking these cases," says spokesperson Risal. "Major cases take time to investigate as a lot of people and factors are involved. But, these bribery cases along with cases related to fake documents don't take as much time. As we deal with them relatively quickly, people think that we only look at these cases; that is wrong."
Critics argue that the CIAA does not have much work as the police can be mobilised to arrest these people which can take up to a week. As most of the culprits are lower-level employees, the CIAA feels that power centres will not interfere in the case.
These cases are also proved with relative ease at the Special Court, which means they can show that they have been working towards making Nepal corruption-free. The authority is so proud of this as it publicises its success rates.
"But, we can't stop corruption in the country without apprehending those at the top," says senior advocate Sabita Bhandari Baral. "The CIAA has become an organisation that can only punish small offenders. They can't show the number of successful small cases and hope that corruption will end. Unless they are brave enough to book powerful people for corruption, its relevance will gradually disappear."
Baral says that the CIAA has been shying away from booking people close to prime ministers, ministers and influential people close to them. She says that this is one of the main reasons why the CIAA's role is being questioned by the public.
Catching people red-handed started as a campaign when the CIAA was under the leadership of Karki. During the fiscal year 2013/14, formed a mechanism to take action against public officials. Since then, it has been quite active in booking these officials after catching them red-handed. Even after Karki was removed by the Supreme Court, this trend continued.
Basnyat and Ghimire also continued the trend as they even started to book public officers based on CCTV footage. 
Major cases limited to reports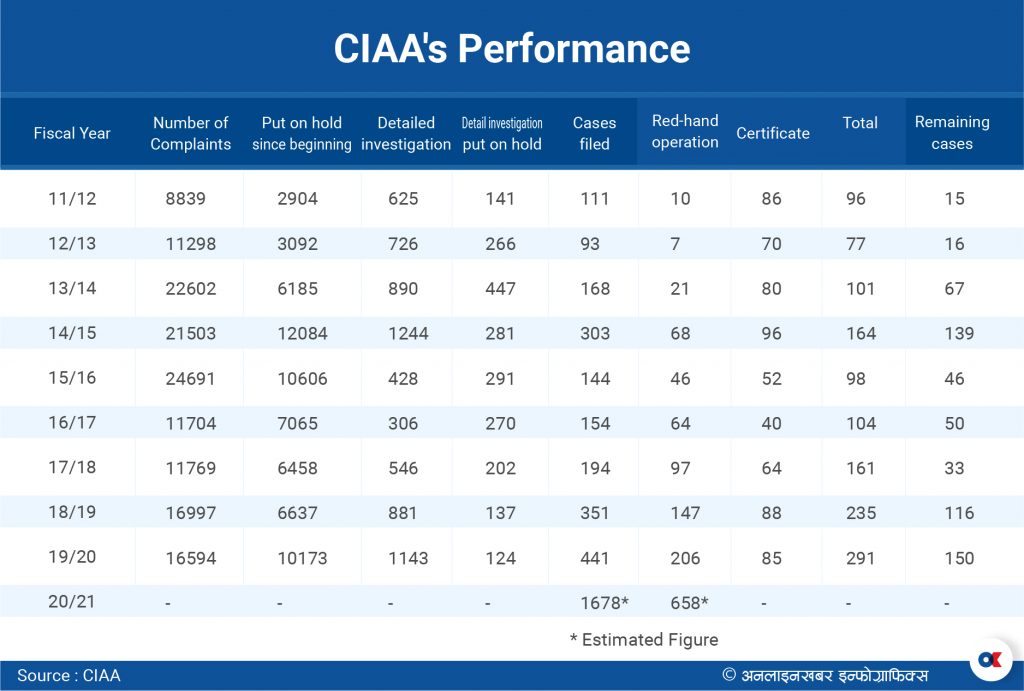 Last year, the CIAA suggested the government keep tabs on tenders applied by contractors and refuse to give contracts to these contracts who were not capable of handling major projects. This was odd to many as the CIAA, which had thousands of such complaints against these contractorss, decided to prepare a report rather than taking action.
In 2020, there were around 1,200 development projects, worth Rs 76,44 billion, that were in a passive state with the government taking no action against any of these contractors. Instead, it amended the public procurement regulations as it extended time to complete these projects.
Out of those, the CIAA had segregated 50 major cases and said it would start taking action against them. But, it did nothing. Two years ago, it ignored the decision made by the Council of Ministers when selecting contractors for the Melamchi Drinking Water Supply Project.
Over a decade ago, the Supreme Court set a precedent in regards to the then Royal Nepal Airlines Corporation, in which it told the CIAA that it could not investigate policy decisions made by the Council of Ministers. But, the CIAA misinterpreted it and refrained from investigating any decision made by the council.
In July 2012, the government decided to let the tillers own the Nepal Trust land previously owned by King Birendra Shah and his family. The government gave away 21.87 acres of land to the tillers. While doing so, there were a lot of irregularities that the CIAA was aware of, but it ignored it citing it was a decision made by the Council of Ministers and it had no jurisdiction over that. 
Former Joint Attorney General Poudel says that there are times the CIAA tries to protect the government during major corruption cases as it acts like its shadow. 
"As the ruling party plays a role in constitutional appointments, they try to appoint heads who will support them at times of need," says Poudel. "They are instructed to do things in a certain manner by these politicians and they do it without it coming out in public."
Avoiding major cases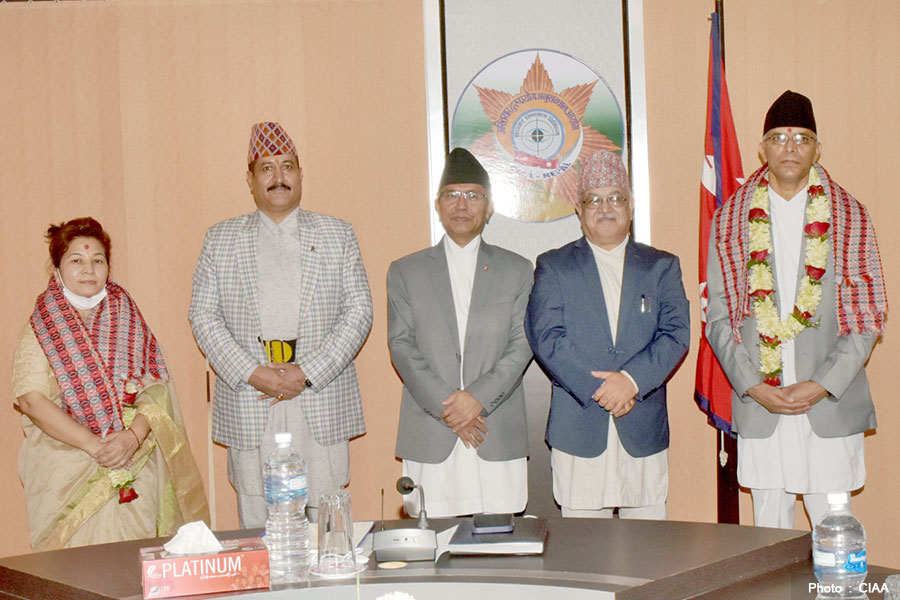 It has been six years since the Public Accounts Committee of the Parliament sent a report to the CIAA to investigate Chameliya Hydropower as it accused the hydropower project of financial irregularities of up to Rs 550 million. Not only did the CIAA not register the case, but it also did not even put the file on hold as it has avoided the case altogether. 
In July 2017, the CIAA filed a Rs 3.34 billion corruption case against officials from the Tax Settlement Commission. But, it took the commission four years to start a supplementary case regarding the same case, which questions their competence.
Another high profile case is the procurement of narrow and wide-body aircraft by the Nepal Airlines Corporation. The Public Accounts Committee had said that there had been financial irregularities of up to Rs 4.35 billion.
The CIAA has also not shown any interest regarding the corruption case against former Communication Minister Gokul Prasad Baskota as the CIAA Chief Navin Ghimire, before retiring from office, had done his best to put the case on hold. The CIAA's intention can be clear when it summoned Bijaya Prakash Mishra, who had shot the video of Baskota asking for a bribe, even when it knew that he was in Japan.
Power-sharing at its peak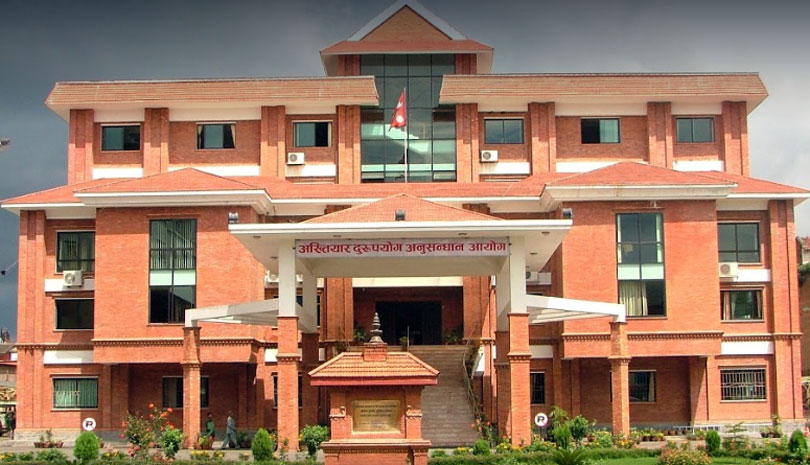 After Karki was removed from the office, the CIAA has had one controversial person after another in its chief's position as most of them have been political appointments.
Basnyat was the Rastriya Prajatantra Party's candidate while Ghimire was CPM-UML's. Similarly, Ganesh Raj Joshi, Raj Narayan Pathak and Sabitri Gurung were appointed due to their ties with CPthe N-Maoist Centre, Madhes-based parties and Nepali Congress respectively.
Currently, different corruption cases against Pathak and Bansyat are sub-judice. Basnyat, who has been involved in the Lalita Niwas land scam, has also spent some time in prison. He was released on bail after an order from the Supreme Court. Pathak has been accused of settling cases by taking bribes while he was in office. A video of him doing so has been made public.
Ghimire, who punished public officials for taking a bribe as little as Rs 500, was later criticised as he put major cases against politicians on hold before leaving office.
"He put a file against the contractors who were making railway tracks on hold," said a source from the CIAA. "This was probably the only case which was put on hold despite the entire investigation being completed."
Since Ghimire's term has ended, the nature of officials working at the CIAA has not changed.
January onwards, five officials have been appointed at the CIAA. Cases against these five officials are sub-judice at the Supreme Court as a writ petition was filed against them after KP Sharma Oli appointed them without fulfilling the necessary criteria. The fate of these officials is unknown.
That said, these appointed officials are also controversial. Chief Commission Prem Rai has been accused of being a member of Oli's coterie who has a soft corner for the UML. 
"It won't surprise me if he takes decisions in favour of the UML," says an official working close with Rai.