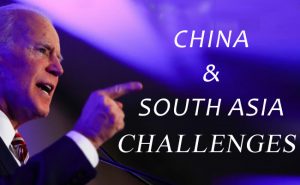 N. P. Upadhyaya, Kathmandu: That China could attack India any time soon has come to the notice of Nepal's political observers through a sensitive and very authentic source in China.
But conditions are attached.
If one were to believe what Global Times said recently then China, if pushed to the wall, can retaliate appropriately by encouraging the insurgency in India's volatile Northeast armed groups.
Is China hinting at the renowned revolutionary Paresh Baruah of the United Liberation Front (ULFA) of Assam who is what Prachanda ( Pushpa Kamal Dahal) meant to New Delhi during the India sponsored and encouraged Maoists Nepal's People's war era?
India can go any low and if India can destabilize Nepal, Pakistan and threaten Bangladesh then why China can't shake India?
Had Nepal the capability and wisdom then it too could have destabilized Darjeeling, disputed Kashmir and Sikkim-the sovereign nation which India gulped through the RAW machinery. 
Needless to say, the Indian spy agency RAW has plagued the entire South Asian nations. RAW is a menace for SA.
That China could look up to this "insurgency card" option if pushed to the wall has best been put on record forcefully by a Chinese think tank scholar Mr. Long Xingchun, the President of the Chengdu Institute of World Affairs, a think tank administered by China's Ministry of Foreign Affairs, who wrote in the Communist party of China (CPC)run Global Times on October 22, 2020 that, (sic), "once a country wants to develop official ties with Taiwan, it is by no means purely a trade issue and those who support Taiwan were "secessionists".
India of late after the insulting Ladhakh debacle, has concentrated its eyes on Hong Kong by sending senior RAW functionaries to provoke the local Chinese against mainland China.
China understands the Indian maneuverings in Hong Kong.
This Chinese scholar has almost warned India stating that "if India supported Taiwan then China would be forced to encourage the insurgency in its volatile India's Northeast armed groups".
China views Taiwan as a renegade province and those who advocate for the self-governing Taiwan's independence as "secessionists".
Whatever Long Xingchun Chinese scholar may have in his mind in making a threatening remark on India, but what is for sure is that Beijing will cautiously wait for more two months until the inauguration of President elect Joe Biden in the White House set for January 20, 2021.
Joe Biden is a matured diplomat, politician and above all a perfect champion of democracy and its universal ideals.
How to treat and behave with India-the South Asian crook and recognized predator will expectedly be decided by China when President Biden formulates his "foreign policy" for South Asia including his upcoming moves on the troops withdrawal from war torn Afghanistan.
China will expectedly give adequate attention on how President elect Biden takes the fresh US-India military pact signed last month (October) in Delhi by Mike Pompeo and his counterpart.
It is this pact that grants India to act like a South Asian Police State.
In fact "predator" is India's real face and a personality.
In addition, China will watch for some time more to see as to whether President Biden toes the Trump's hardline approach towards China or prefers some sort of "reconciliation" by easing the current tensions that marks China-US relations.
A recent article published in the State run mouthpiece the "Global Times" expects that "President Biden's presidency could usher in a 'buffering period' for already-tense China-US relations, and may offer an opportunity for breakthroughs in resuming high-level communication and rebuilding mutual strategic trust between the two countries."
Well, analysts in Nepal assume that though Joe Biden shall be not that inimical towards China, yet he will not compromise on questions of Taiwan and Hong Kong and matters of trade with the US.
Analysts claim that US-China relations will continue with carrots and sticks concurrently from both the sides.
But what is for sure is that President Biden will be a bit different than what President Trump used to have for China.
In a way, the assumptions of Global Times is not that very far from the upcoming truth.
As expected by some analysts and commentators in the Western World, President Biden may not push China to the wall to avoid fitting retaliations.
The upcoming South Asian politics hopefully shall be dominated by expansionists India with the backing of the US which has very recently signed a military/security pact with the regional hooligan-India.
So if we believe the fresh analysis presented by a Nepali scholar Dr. Anil Sigdel based in Washington D. C then what is for sure is that President elect Joe Biden shall put his entire energy in consolidating the Indian role in South Asia in order to tease China through its reliable and trusted partner India.
President Biden must recall that India used to be on the side of the former USSR till the end of the Cold war and that India switched its allegiance for US after the USSR breakup.
Isn't it a marriage of convenience?
In doing so, Biden is, as per Dr. Sigdel, to say good bye to its former all weather Cold war ally Pakistan?
If Biden intends to corner Pakistan then Islamabad too perhaps will find it more comfortable in inching "further" closer to China and then Russian federation much to the discomfort of the US new guards.
But Biden expectedly would not prefer this route to tease Pakistan only because for the prevalence of peace in Afghanistan, after the US troop's withdrawal as promised by outgoing President Trump, Pakistan shall mean much to the Biden administration in the White House.
The way US special envoy to Afghanistan Zalmay Khalilzad and General McKenzie have had landed in Islamabad several times in the recent months and years does tell that the US needs Pakistan more than what Pakistan needs the US.
But Pakistan too can't ignore the US for multiple reasons.
The newly appointed US Ambassador to Islamabad William Todd has said openly that Pakistan was an "essential partner" of the US and had played "a critical role" in the historic start of Afghan peace negotiations.
However, with the change of sentinel in White House, whether Ambassador Todd continues as US envoy or packs his bag is yet unknown.
William Todd is on record to have stated that "They (Pakistan) have been very helpful in facilitating meetings. They have been helpful reducing tension and they have been very, very helpful in terms of getting logistics and other things done that have helped us do what we needed to do.
The Doha talks is all due to Pakistan's subtle diplomacy between the Talibans and the Afghani government.
Ambassador Todd was apparently hinting at the peace initiatives taken by the US on Afghanistan and Pakistan's delicate support to the US in settling the Afghanistan issue even after the US troop's withdrawal from Afghanistan.
Interesting part of the story is that President elect Joe Biden also sees Pakistan as a valuable and trustful ally in the context of the Afghan problem.
Shuja Nawaz, in his recent book "The Battle for Pakistan", recalls that during his visit to Kabul as the vice president of the US long time back, Biden gave a 'shut-up call' to Hamid Karzai when the latter demanded that the US should pressurize Pakistan diplomatically to curb its support for the Afghan Taliban.
Joe Biden countered this by asserting that "Pakistan is fifty times more important than Afghanistan for the US".
Joe Biden's emphasis on Pakistan's role in South Asia, more so on Afghanistani affairs, does tell that President elect will not perhaps give a blanket cheque to expansionist India to act as the South Asian Police on behalf of the American administration.
He needs striking a balance for the larger interest of SA region and beyond including Iran for some special reasons.
According to Dr. Sigdel, Joe Biden's Asia policy will basically give priority to India.
If so then that would mean that President Biden will surely ignore other smaller countries of South Asia?
Biden is expected to enhance his Asia policy together with the partners of the US in Asia, so hopes Sigdel.
But can the President elect summarily ignore other South Asian nations and leave them all at the mercy of the regional rogue?
If Asia and South Asia means only India then President elect may have not a smooth going as his India-backing will perhaps boomerang at some point of time.
Why? The President must talk to the smaller nations as to what India means to these nation?
Or else it would mean that President Biden pushing the South Asian nations to the fold or say lap of China voluntarily.
Guaranteed.
South Asian political analysts claim that Biden will not bag success in South Asia until he settles or dares to mediate the disputed Kashmir issue between India and Pakistan.
Prior to recruitment of India as the Police man of South Asia, the US President is advised to look into the clandestine maneuvering of the Indian regime in disturbing the peace efforts of US and a host of other regional countries for peace building in Afghanistan and the brutality and the cruelty being openly practiced by the Indian torture machine to the innocent population of Kashmir who have been living a hellish life all along from August 5, 2019.
Will he look into the Kashmir atrocities? He has to. Or else, Kashmir is a flashpoint in South Asia.
Biden would do well if he attaches importance to the prevalence of peace in South Asia that has been largely taken hostage by the erratic India's expansionist and the highly Islamophobic regime led by PM Modi whose Hindutva notoriety is known here and there including the White House.
Will Biden during his Presidency ignore the state sponsored attacks of poor Dalits and the Muslims in India?
Will he ask as to how the outgoing President Trump took the Delhi riots Delhi wherein Muslims were targeted?
President Trump was in New Delhi in February this year, to recall.
State machineries attack on Indian Muslims who are in minorities in India and the Muslims keep silence for fear of being butchered.
President elect Biden could seek the help of Arundhati Roy to understand the current Indian regime under fundamentalist PM Modi.
According to Dr. Shambhu Ram Simkhada, a Nepal's seasoned diplomat, Biden's arrival in the White House shall restore ties with the WHO and stress the need for Democracy the world over and also give proper attention to the freedom of speech and religion together with the restoration of the commitments made on Climate Change issue.
In sum, President elect Joe Biden is not new to the politics of Washington DC, and he has a "proven" vast experience as a negotiator and administrator.
South Asian senior commentators claim that Joe Biden has historically looked upon Pakistan as a strategic regional ally.
Hopefully, he will look into the South Asian countries with sympathy keeping in mind that if these countries are pushed to the wall will automatically give China an unwarranted political Rick Gladstone sums up the upcoming foreign policy challenges for President elect Joe Biden.
Gladstone for the New York Times dated November 7, 2020, compiles the challenges that confront President Biden are, the US relations with China; America's allies in Europe are alienated; The most important nuclear anti-proliferation treaty is about to expire with Russia; Iran is amassing enriched nuclear fuel again, and North Korea is brandishing its atomic arsenal.
South Asia is a gigantic challenge because of the China factor.
How President Biden overcomes these formidable challenges will have to be watched. That's all.