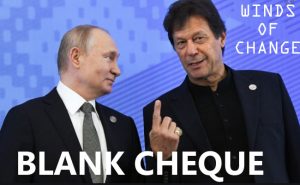 N. P. Upadhyaya; Kathmandu: The Indian Prime Minister Modi, better late than never, realized that world's powerful leaders in their own right such as President Vladimir Putin, Xi Jinping and back in South Asia-Imram Khan were not cut from the same cloth as his own BJP leader Subramanian Swami or Amit Sah or even Bhutan King, the Maldivian President and Delhi dressed and trained Nepal Maoists leader Prachanda-the man supposedly close to Lendhup Dorje of Sikkim infamy.
That these leaders swing the international politics their desired way, PM Modi perhaps got some inkling when these globe influencing leaders met in, Bishkek, Kyrgyzstan to attend to the Shanghai Cooperation Organization (SCO) meet held third week of the year 2019.
Those who had been watching the Bishkek event, including this pen pusher, could notice how Russian President V. Putin kept Imran Khan busy in his intimate talks concurrently "ignoring" the Indian Prime Minister Modi for all along the SCO event.
So wrote Jyoti Malhotra-India, for the Print dated 18 June 2019, that "Sandwiched between President Xi, Putin, PM Imran Khan in Bishkek, Modi learnt an important lesson".
Indeed the lesson to India was long overdue. PM Modi spent most of the time in Bishkek in seclusion.
This intimacy sent some spine distressing signals to the world more so to those South Asian political analysts and commentators especially from the Indian union that President Putin was not that much happy with the "camp changer chameleon" India and its Prime Minister who have had after the end of the Cold War switched closer to the United States.
India was ungracious to the Russian Federation-the successor of the now defunct USSR for a multitude of political and strategic reasons.
Notably, for the entire period of the Cold War, India under Mrs. Indira Gandhi had inked a sort of two decade long security agreement with the former USSR (Union of Soviet Socialist Republic) which in effect made the Indian nation-the country of the former British slaves a dominant force in the South Asian political spectrum.
And with the "sudden but calculated demise" of the USSR, the Indian regime left the Russian Federation-the heir apparent of the former USSR alone to the mercy of the world politics and sided with the USA.
For the record, it was the Indian association with the Super Power the USSR that designed a bifurcation of Pakistan and facilitated the forced emergence of a new country in South Asia, Bangladesh, which just a fortnight ago opposed the very arrival of the Indian PM Modi to Dhaka vehemently.
India calculatingly dumped the Russian federation and associated with the US-the lone Super Power as stated earlier.
A paradigm shift:
Vladimir Putin's thought-out neglect of Prime Minister Modi at the Bishkek SCO conference did speak of the underneath signal that Putin was not that much happy with the dilettante Indian regime which changed the camps and sided with the US and bought Armed Weaponries and war materials summarily neglecting its former ally of the Cold war period.
The massive accumulation of lethal weapons in India alarmed China-India's arch rival.
The US is being cheated by India.
Let's presume that Russia and China came closer because of Indian treachery and the emergence of Quad.
About this time, in world politics, the US summarily had ignored Pakistan-its Cold War ally for quite some time which is what may have stimulated Pakistan to expand its ties with the Russian Federation and China to which both the Russian and Chinese government reciprocated in a positive manner considering their own respective politics and interests.
As of today, Pakistan is darling of Russia and China tentatively.
The Bishkek meet of Putin-Khan was testimony to this political exemplar shift which must have stunned India-the South Asia's regional rat.
The meet was of strategic significance which made sure almost that Pakistan's international status was about to upsurge.
Pakistan today is a regional power undoubtedly.
The Indian motivation to fasten itself with the US was just to exploit the US for becoming a leader in South Asia.
Conversely, Pakistan too have had a desire to come closer to Russia and Russia did so in order to "balance" Indian clout in SA which is equipped with the US blessings.
Both Russia and Pakistan felt it necessary to inch closer to each other to allow Russia to regain its thump in the South Asian region and for Pakistan-Russia was a near to Super power.
Due to some considerations in the changed political context, Russia ignored the fact that Pakistan was against the Soviet invasion of Afghanistan.
Changing political intricacies and with the advent of the Quad (US, India, Japan, Australia) in the region and the world and the resultant crucial time demanded that the two countries, Russia and Pakistan, be together at least to guarantee peace and stability in South Asia including war torn Afghanistan.
However, the SCO meet at Kyrgyzstan brought both Putin and Imran Khan pretty closer and hopefully President Putin determined that his country now should not rely completely on India-the camp changer, but Pakistan too should be taken into confidence henceforth.
Pakistan stature enhanced:
Khan's straightforward pattern in dealing with domestic and international politics is what appears to have enchanted Putin who then decided to accord prestige and political recognition to Pakistan to what was its due and hopefully hinted through Foreign Ministry to his Ambassador in Delhi Nikolay Kudashev to speak on Pakistan-Russia ties openly.
The Russian Ambassador Nikolai Kudashev spoke that "its growing bilateral relationship with China and Pakistan are independent" "of its ties with India.
Ambassador Kudashev stunned New Delhi regime on 21 December, 2020 when he spoke the Russian mind on Russia's ties with Pakistan-the arch rival of India.
What hit the Indian regime most was Ambassador Kudashev's statement wherein he stated that "Moscow's relationship with Islamabad to further develop and that it is "independent" of their ties with India.
Ambassador Kudashev spoke what India doesn't want to listen even.
Let's for the sake of expediency believe that this Russian political standpoint taken on Pakistan at Delhi's press conference molded the impending Islamabad-Moscow ties and gave it a new height.
In fact what virtually killed the Indian regime apparently was Ambassador Kudashev's expressions at the Delhi press conference which highlighted the salient features of its ties with Pakistan.
Ambassador said, "Russia's ties with Pakistan is independent in nature similar to our ties with India. We are going to develop this relationship (with Pakistan) further.
We are focused on fighting terrorism, drug smuggling and other issues. It is based on the same values based on which we have ties with India".
What visibly pinched India is the use of the word "similar" by the Russian envoy which must have unnerved for quite some time the Delhi rulers who believe that Delhi is recognized as a world power and that other countries were just a satellite of the Indian regime to which it is not and was not as explained by Ambassador Nikolai Kudashev.
To be candid, writes Mandira Nayar, April 07, 2021 for the WEEK that "Russia and Pakistan have been visibly closer since 2014 when Russia chose to lift the embargo on supplying weapons and military hardware. Russia's decision to supply Islamabad with attack helicopters was described as a standard shift.
The 153 million dollar deal dates back to the Army Chief Raheel Sharif's Russia visit on 2016."
Russian FM in Islamabad:
With this political environment in the back ground, more so after the Bishkek meet, the present visit to Pakistan by the Russian Foreign Minister Sergei Lavrov be taken.
FM Lavrov headed straight to Islamabad from Delhi and this political gesture must have annoyed the Delhi cheats specially the "politically split personality" Jay Shankar.
Writes Natwar Singh April 10 for the Sunday Guardian Live- that Lavrov's flying from Delhi to Islamabad thus puts Pakistan also on the high table, in the sub-continent".
Natwar Singh is a former Foreign Minister of India who worked under Mrs. Gandhi.
Says Natwar that "I don't recall when a Russian Foreign Minister last visited Pakistan. There seems to be a wind of change in Russia-Pak relations".
The Soviet Union viewed for long that India was not a truly independent country as being a member of the "British Commonwealth", which was an imperial set up, so recalls Natwar Singh in his article.
He is true in what he sums up.
High placed political analysts in South Asia say that the Indian independence is for a specified period only and depends much on the whims of the United Kingdom even as of today.
The longest surviving Foreign Minister of Russia, Sergei Lavrov had arrived in Pakistan after holding a day conference in Moscow on Afghanistan.
Lavrov FM since seventeen years or so.
The one-day conference in Moscow was the part of a larger effort by regional powers to make peace between the Afghan government and the Taliban.
The Moscow peace process on Afghanistan was attended by representatives of the United States, Russia, China, and Pakistan, March last month. .
The group known as the "Troika," including the U.S., Russia, and China, plus Pakistan, had called "on the Taliban not to pursue a spring offensive," a major fighting campaign by the Taliban that happen in the spring season of each year, so wrote Ezzatullah Mehrdad for the Diplomat dated march 23, 2021.
India was not invited in the Moscow efforts for peace in Afghanistan. This is news breaking.
KATHY GANNON for the Associated Press dated April 6, opines that Foreign Minister Sergey Lavrov's visit comes to Pakistan as a May 1 deadline for U.S. troops to leave Afghanistan in line with a deal Washington signed a year ago with the Taliban seems increasingly unlikely.
President Biden is thinking to extend the withdrawal time schedule.
Sergei Lavrov's fresh trip to Pakistan assumes significance in that neighboring India is an active member of the Quad which is equivalent to Asian NATO which compels Russia and Pakistan to forge and enlarge ties to discourage the threats posed by India in South Asia and beyond.
It is in this light, FM Lavrov statement that "Moscow and Islamabad would boost ties in the fight against terrorism, and Moscow would be providing defense equipment to Pakistan and the two will be holding joint military exercises", be taken.
This is soothing to the smaller South Asian nations who wanted to listen from Russia so that Pakistan could become a real and effective political and nuclear deterrent to India whose highhandedness has brought immense trouble to this region.
South Asia needs a fitting and appropriate match to Indian regime and now with Russia's assurances, Pakistan is the effective deterrent to Indian dadagiri.
Lavrov's trip to Islamabad also hints that Moscow would wish to increase its presence in South Asia and more so in Afghanistan so that its presence could be felt by the countries near and far.
Moscow intends not to leave South Asia to the mercy of the regional bully-India.
Moreover, Russia has enough reasons to express its concerns with the visible Indian tilt towards the US which Moscow believes would pose a serious threat to its core interests in South Asia and beyond.
Express Tribune reports April 11, 2021, that "When Russian Foreign Minister Sergey Lavrov visited Islamabad last week, 6-7 April, 2021, after a gap of nine years, he had delivered an "important" message to the Pakistani leadership. The message was from President Vladimir Putin.
Tribune adds, "I came with a message from my President that tell Pakistan we are open for any cooperation, whatever Pakistan needs Russia is ready for it," Lavrov was quoted by a senior Pakistani official, who attended the closed door meeting between the Russian foreign minister and Pakistani authorities.
"In other words, the Russian president offered us a blank cheque," said the official, who requested not to be named because of the sensitivity of the issue.
The anonymous official revealed in details that "Putin had conveyed to Pakistan through his top diplomat that Moscow would help Islamabad in any manner.
"If you're interested in gas pipelines, corridors, defence or any other cooperation, Russia stands ready for it," the official quoted FM Lavrov as saying when asked what he meant by "blank cheque.
Listening to what Lavrov said of Pakistan and its Prime Minister, the sick Indian regime must have had a nervous breakdown.
At the joint news conference with his Pakistani counterpart, the Russian foreign minister had said Moscow was ready to supply Pakistan with "special military equipment" to enhance its anti-terrorists potential. He, however, did not provide further details.
Media reports claim that Pakistan is hoping that President Vladimir Putin would visit the country this year end and if it happens then that would rewrite the Russia-Pakistan history from being Cold War foes to friends.
Apart from meeting the Prime Minister of Pakistan and Foreign Minister Qureshi, FM Lavrov called on Pakistan's army chief Gen. Qamar Bajwa.
According to a statement by the military's media wing, he acknowledged Pakistan's sincere efforts for Afghan peace.
He said Pak-Russia relations are on a "positive trajectory" and will continue to develop in multiple domains.
The world powers have begun to pay more attention to Pakistan's importance in international and regional affairs-a new headache to rival India.
Thus sums up this Chinese scholar Cheng Xizhong April 7, 2021, that "The Russian foreign minister's visit to Pakistan is of great strategic significance, which shows that Pakistan's international status is constantly rising and that world powers pay more attention to Pakistan's importance in international and regional affairs.
Cheng Xizhong, is a visiting Professor at Southwest University of Political Science and Law, Senior Fellow of the Charhar Institute and former Defense Attaché in South Asian countries said last week.
International politics has its own way. It has at times huge surprises.
The Kyrgyzstan SCO conference is one surprise. That's all.